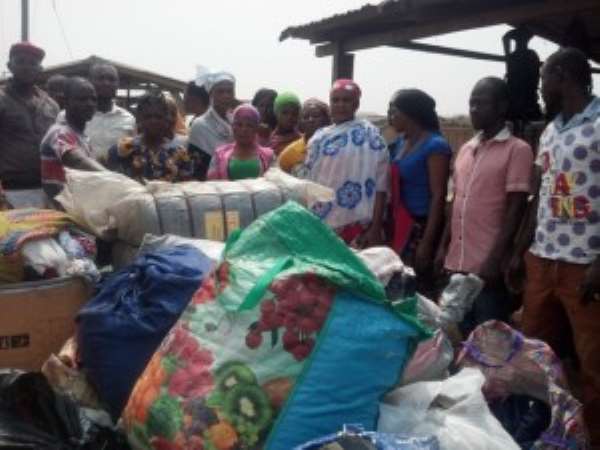 IMG_6304
After courting controversies over recent donations of GH¢5,000 to the opposition New Patriotic Party (NPP), the Ashanti Regional President of the Head Porters Association, Adiza Moshie Zongo, is once again in the news, after donating bales of used clothes to victims of the Dagomba Line fire disaster.
Adiza, who was accused of leading the NPP propaganda, presented the items to her colleagues yesterday, with the help of a popular NPP Serial Caller, Kwame NPP. The items included over 10 bales of used clothing and foot wears, which were solicited from philanthropists and well-wishers across the region.
The donation is expected to assuage the pain of victims of female head porters, locally known as 'Kayayei', who lost valuable belongings when fire swept through their premises a few weeks ago.
The Chief Head Porter courted controversy weeks ago when she made a donation of GH¢5,000 in support of the NPP campaign drive in the name of the Head Porters Association, after some members denied ever making any such contribution. The ruling NDC has since been accused of being the brain behind efforts to discredit the credibility of the donation.
But it appears Adiza Moshie Zongo, who also chairs the Zongo Pioneers Association, has proved her critics wrong, after managing to mobilise support for her members, some of whom are currently struggling to earn decent living, having lost everything to the fire.
Presenting the items at Dagomba Line on Tuesday, Adiza urged her colleague head porters not to allow themselves to be deceived by functionaries of the NDC. According to her, left to the NDC alone, they prefer to see the Kayayei living in impoverished conditions so that they can continue to manipulate and lie to them.
Adiza contended that despite years of unflinching loyalty to the NDC, the ruling party has not shown any commitment towards improving the lives of Kayayei in the country except manipulating them through vile propaganda. She, therefore, called on her colleagues to support her cause for change and ensure victory for the NPP, since it is the only party that can help improve their socio-economic conditions.
From Issah Alhassan, Kumasi