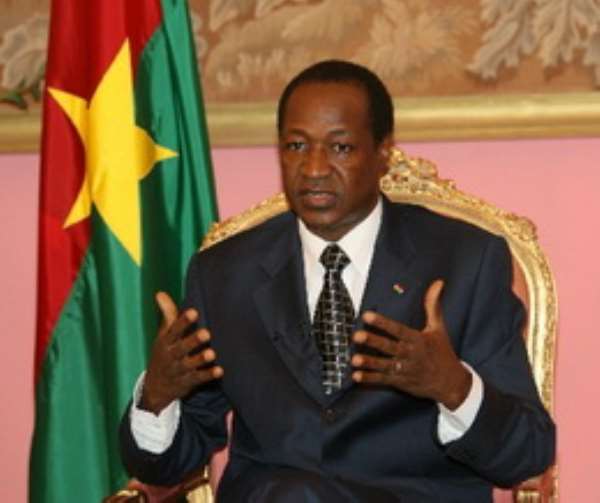 The suspected terrorist, who was arrested at Gwollu in the Upper West Region, has turned out to be the bodyguard of former President of Burkina Faso, Blase Compaore. Zuure Braimah was arrested by the Sissala West Police Command, after residents of the area became suspicious of his movements.
In an interview with The Chronicle yesterday, the Regional Director of the Criminal Investigations Department (CID), Superintendent Fuseini Musah Awinba, said the identity of the suspect came to light during interrogation.
Explaining the circumstances that surrounded the arrest, he said: "yesterday in the evening around 5 pm… the Police saw a certain man whom they suspected to be a criminal. He was just loitering in the Gwollu Township and they did not know his name, so they arrested him and he was interrogated and it was then that it was revealed he was an ex- body guard of the ex- President of Burkina Faso."
Police sources disclosed that Braimah is alleged to have committed some crimes in his home country and had been on the wanted list of the security forces of Burkina Faso, the reason he dashed to the country.
"The police in Burkina Faso were also monitoring him, so when they found out that the Ghana Police have arrested him, they ( police in Burkina Faso) contacted us, but since we just arrested him we could not just hand him over to them," Superintendent Musah Awinba said.
The CID Chief could not confirm if the suspect had some links with the terrorists who attacked a hotel in Burkina Faso a few days ago. In the absence of the real facts relating to the case, Superintendent Awinba said the most appropriate thing to do was to refer the case to the security agencies in Burkina Faso for further investigations.
"The Burkina Faso police will be able to know if he is linked or involved with the terror attack, since it happened there," he added. News recently made the rounds that Police in the Upper West region had picked up a man suspected to be a terrorist, who was believed to have fled Burkina Faso into Ghana, after the terror attack in Burkina Faso.
The suspect was said to be an ex-serviceman, believed to be part of the terror group that attacked a hotel in the Burkina Faso capital, Ouagadougou, last week, killing 28 people.
Meanwhile, last Sunday, ten soldiers from a disbanded elite unite loyal to Burkina Faso's ex-president were arrested over a raid on an armoury outside the country's capital, Ouagadougou. The pre-dawn raid on Friday at the weapons warehouse underscored the challenges facing new President Roch March Christian Kabore.
From Musah Umar Farouq, Wa