Italian Prime Minister Visits Ghana Next Week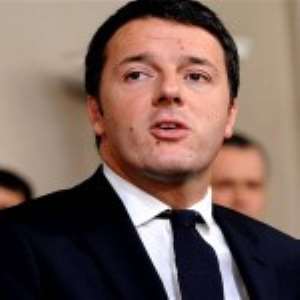 Matteo Renzi

Parliament re-opened yesterday for the last session of the Sixth Parliament with the announcement that the Italian Prime Minister, Matteo Renzi, will pay a visit to the House next week and address the House.
The is the second time a high profile international personality would be addressing Ghana's Parliament since the National Democratic Congress (NDC) government took over power in 2008. The first person was President Barack Obama of the United States of America.
The speaker, Edward Doe Adjaho, who made the announcement, did not tell what the address would focus on but said Parliament would be ready to receive the 41-year-old Italian Prime Minister, who is the youngest Premier in the EU after winning power in February, 2014.
The New Patriotic Party (NPP) Member of Parliament for Kwadaso, Dr Owusu Afriyie Akoto, told DAILY GUIDE that the Italian Prime Minister's visit to Parliament is refreshing news but indicated that unfortunately his visit to Ghana cannot help salvage the sinking economy of the country.
.
"The Italian Prime Minister is a very young leader and his visit will serve as an inspiration to up-and-coming young politicians in the country and also help deepen the relationship between Ghana and Italy but can never save this government from losing the general elections," he said.
Welcoming MPs back to Parliament for the first meeting of the last session of the Sixth Parliament, the speaker asked the MPs to be more proactive and take the business of the House more seriously because there are a lot of outstanding businesses to be cleared, in addition to a packed business for that meeting.
He noted that he was aware that MPs would be fully occupied because of the general elections in November and pleaded with them as well as ministers of state to respect the time-table for that meeting.
He also said Parliament would be looking forward to the new bill that would change the election date from December 7 to November 7 this year.
He also indicated that he would officially announce the new ministerial appointments as presented by the President last week to enable the Appointments Committee of Parliament consider the new appointments in good time.
By Thomas Fosu Jnr