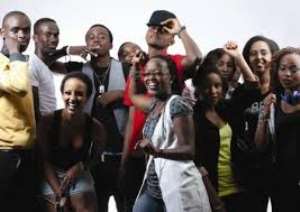 The youth alive they say gets the work down. Which work? The future work of the nation, churches and family I guess. Seeing my fellow youth prosper is a delight but seeing them forsaken by God and still appears prosperous is a disaster. The worst thing that can happen to a man is to keep disobeying God and still appears prosperous. Listen, the fact that friends are celebrating you today doesn't mean God has approved you.
The recent news proliferating the social media and the news on the youth' sinful crevices in amassing wealth at the peril of their lives is becoming a societal canker that must be dealt with. Hitherto, guys will have to be educated, learn a trade, graduate and either wait to be employed or create something just to standardize their living. And I ask myself what has happened to us now, because hitherto our fathers had the time to wait when there were youths, but now waiting is equated to wasting. Why?
We were in this very country when the Report Ghana News displayed a picture of a hidden location on March 26, 2015 where some Sakawa boys(youths) were captured and we have items like caskets, red carpet and other horrific materials claim to be ritualistic recipes for quick money. It wasn't long when some other Sakawa boys (youth) were arrested on June 1, 2015 for murdering a 7 years old boy for rituals.
And the suspect's ages ranges from 20 years to 28 years. So I asked myself, what has gone wrong? And on December 3, 2015 some Sakawa boys were arrested for Kidnapping a 19 year old girl on the street heading for rituals until a good Samaritan raised an alarm when there were slowed by the toll traffic. I entered a café to print a project work and I saw boys from age 10 to say 19 years scamming foreigners just to make wealth. And then I ask myself, Jesus at age 12 was sitting at the temple reasoning with the writers of the law but today our youth are sitting in the café seeking whom to defraud.
Now, the question is did Alinco Danqote kill any man or was he engaged in any rituals before becoming the richest in Africa? Were our parents involve in any money rituals before taking care of us from age zero till now that we are almost heroes on our own? Why risk your character for a car? Why do you want to amass wealth at the expense of your life? Why chose to live some few years without God but in the name of God than to live your life with Him?
My brothers, get it straight you don't need to defraud to be a rich man, you don't need to be a monster to be a master, and you don't need to sleep in a casket to be a baronet. You don't need to see a fetish priest before being a high priest. Young guys look at elderly folks going for vacation in Dubai and the world at large, and at age 18 you want to do what a 50 year old man is doing with his wife, a man goes on pension and bought a Benz car, a young boy of age 23 want to own a Benz at that age. I have always told my guys that premature ejaculation is not a license to impregnate, it is just an indication that rise up and take responsibility for your own life.
That notwithstanding unhealthy competition among young adults is an ignition to this canker.
Please pause and ponder on this, as this missive reach you in peace: For what shall it profit a man, if he shall gain the whole world, and lose his own soul?
R. Duafah