Ghana: trajectories beyond electoral verdicts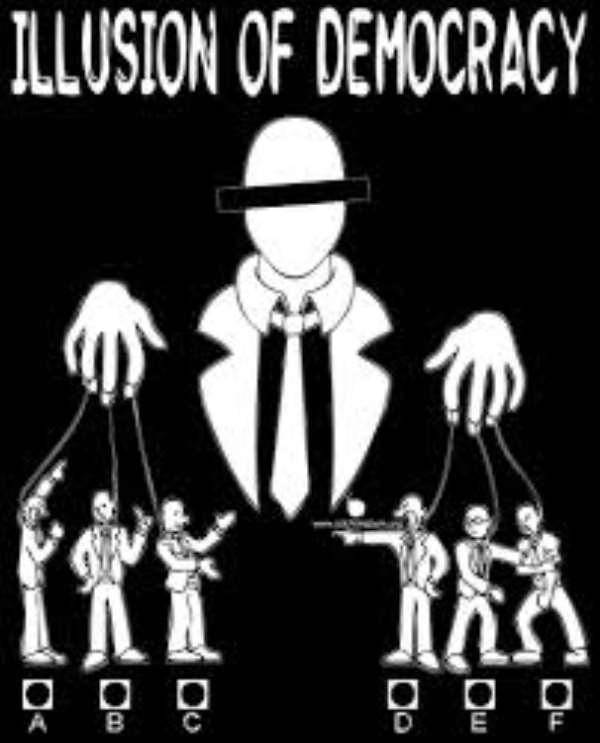 "If the Arab Spring has taught us anything, it is that, it is no longer acceptable to be ambivalent about the needs of the poor and marginalized in our societies – especially in our expanding and unequal cities." President John Dramani Mahama
There is no doubt that Ghana has carved a niche for herself as stable democracy since the inception of the 4th Republican Constitution in 1992. However, the claim that Ghana is a bastion of democracy in Africa is largely premised on her ability to accept electoral results and peacefully hand over power to the party declared as the victor in an election. Although this feat in our body politic is highly commendable, it is delusional when pitched against the operational meaning of a true democracy in a country fraught with growing inequalities; widespread corruption, unemployment and the many shades of socio-economic challenges that span all sectors of the economy.
The ingredients of democratic governance such as equity in access to and the sharing of national cake as well as transparency and accountability have been lost on us and in place a practice of self-aggrandisement at its best has become institutionalized. Whereas democracy should be seen as a vehicle to correct inequalities; create economic opportunities; shape and enrich the potentials of the youth; restore growth and advancement in all aspect of our national life; provide for a peaceful, healthier and prosperous citizenry, paradoxically, these ideals have gone extinct in Ghana. Instead, poverty gap is widening leaving behind worrying shades of social exclusion. These social mishaps occur despite the fact that this is the only time in the country's history when the nation has remained stable for over two decades non-stop! This stability ought to have been harnessed and turned into an opportunity to renew our commitment towards the creation of a decent society where the nation's wealth would be prudently managed and evenly distributed.
The current trend where our democracy is literally that of changing the hands of political power is a disdain to democratic standards whose net effect should be improvements in the lives of Ghanaians. The form of democracy we practice in Ghana can therefore be defined as the rule of political parties; by political fanatics and for the interest of a few political actors. Today, one's political leaning is a determinant for employment; winning of government contracts (when sole sourcing is on holidays) and gaining entrance into tertiary institutions just to mention a few. All governments under the 4th Republic have succeeded in annihilating meritocracy so that skills, competencies, positive work ethics and high moral character have no place to make one fit into the society.
State institutions have become insolvent and they can barely work independently without responding to the whims and caprices of the governing party. This explains why institutions of state have equally been branded political when they are supposed to be apolitical. If this were not the case, how can our judicial arm of government get so tainted with corruption of such magnitude? This trend which is symptomatic of the only two political parties that have governed Ghana under the 4th Republic – NDC and NPP – has extremely polarised the nation.
Rot-syndrome of Governance
Political polarisation has deeply infested the very fabric of our society; the resultant effect being that governance is now driven towards doing what will secure electoral victories in other to guarantee continuity in this rot-syndrome of governance. The impudence of governments over the past two decades is anchored on the premise that the ruling class can act with impunity and get away with it. Allegations of vote buying have become the axiom of power. Events of Talensi remain fresh on our minds and given that it was merely a by-election show the extent to which our two main political parties can go in their quest to win an election. Yours truly has had the opportunity of extensively touring the Talensi constituency pre-2012 elections and I shudder to recount the naked faces of poverty that greeted me on my errands in that neglected part of Ghana. Yet, the recent activities that heralded the by-election show that certain things can be done to assuage the plight of the people but shamefully those basic developmental activities were in hibernation until a by-election was occasioned. If the focus of governance is not to win power, why was Talensi a silent constituency until the by-election saw street lights being fixed at night?
It is obvious that the political plutocrats across the political divide have deliberately allowed poverty to fester in Ghana. Yes, poverty is the medium to win elections in Ghana that is why the fight against poverty cannot be a frontal issue in governance. When someone is very poor, a token of 5.00ghc (1.3 US dollars) is enough to buy their votes. The poor with no light will forget their years of woes and deprivation and vote massively to the party that hurriedly extends electricity (forget about dumsor for now). It is even more intriguing that as parties begin their primaries, we see parliamentary aspirants suddenly wearing the cap of philanthropism and dishing out monies, kerosene lamps, cloths, roofing sheets and Wallington Boots. If these were not intended to buy votes, then why are their donations not a ritual all year round? During the NPP primaries, parliamentary aspirants went out as Father Christmas and the give-aways were mind-blowing (even though they are in opposition). And in the current NDC primaries pending, the flood-gates of philanthropism have been widely opened so that lagoons are being dredged and ambulances are being offered by parliamentary aspirants. Are these give-aways only valuable during elections?
One may argue that people should take these give-aways and still vote according to their conscience but in a society where hunger and deprivation is pervasive; where illiteracy surges and where the very poor have no time to think of tomorrow but how to live on a day-to-day basis, how can such vulnerable people rationalise ill-intended philanthropism during elections? Reasoned analysis is difficult for the hungry mother whose kids are breaking her ear drums for food and water. I aver strongly that poverty in Ghana is deliberate and its persistence shows how invaluable it has become as a tool for political deception. It is not surprising that the Ghanaian society is experiencing growing poverty and widening disillusionment. Are these the end products of democracy?
Trajectories beyond electoral verdicts
Even though the political actors have deliberately failed to fight poverty and also failed to create a sustainable growing economy, they need to be reminded that supervising nepotism, cascading corruption, widening social exclusion and self-aggrandisement are deadly venom that will explode when the citizenry lose hope and the growing unemployed youth see that the ruling class are simply evils in our times. If care is not taken to correct these ills, Ghana risks the kind of upheavals that have in recent years rocked parts of Arab, North Africa and recently Burkina Faso. Security connoisseurs have cautioned the political leadership to create opportunities to harness the energies of our youth least the future looks bleak. Following the Arab Spring, President Mahama aptly stated that; "If the Arab Spring has taught us anything, it is that, it is no longer acceptable to be ambivalent about the needs of the poor and marginalized in our societies – especially in our expanding and unequal cities.". We must remind ourselves that currently, we have become notoriously ambivalent to the needs of the poor and the marginalized and the fears of the President cannot be anything different now.
It is imperative to assert that the trajectories of our governing machinery must change from election victories to that of sustaining development through equal opportunities for jobs whilst implementing sound economic policies that will change the fortunes of Ghana from resource dissipation to resource optimization. So far, the former is the case and the latter a mere rhetoric. This explains why for instance young graduates remain unemployed whilst the public sector is keeping retired men and women at post on extended contracts.
The very tenet of democracy is indeed under siege. The polarised nature of our politics has produced vengeful youth who looms around as hope and despair is the only visible things around. Twenty-three years of our journey into the 4th Republic should conscientize us to focus on the larger interest of the people so that the governing machinery that political parties provide would be used to better the lots of all Ghanaians and not just select party cronies.
Again, the ill-fated trajectories of governance must change to that which gives meaning to meritocracy. We must redirect the power inhibited in governance to nip corruption in the bud and pave the way for systems to work. It is sad to see the array of skilled personnel who flee the shores of Ghana to foreign lands in search of pastures that are never available. Having sojourned in Europe on a studious mission, it becomes sickening when I see educated Ghanaian youth doing menial jobs in the colds just to help their poor families in Africa enjoy some decency. Brain drain is indeed a frightful sight to behold when one becomes a victim!
The mental agonies of educated young Ghanaians who live on the streets of Europe and other parts of the world cannot be described. The plight of thousands of these men and women make one wonder whether or not it pays to suffer through expensive school fees to earn a degree when there are no systems to support young entrepreneurs even as the state has failed to absorb their talents. How can we claim to be practising democracy when uneducated serial callers and graduates who never fulfilled their national service obligations get appointed into high offices when the sons and daughters of watchmen, fish-mongers and plantain sellers who have weathered through the storms of life to earn same degrees wander about with no jobs? So far the best paid job in Ghana is to be a serial caller for a political party. Political vulgarism is the new trend and it is not surprising that many a youth will do everything possible to trade insults publicly for recognition and appointment. These trajectories must stop.
As the election season is here again, may our political parties focus on finding alternative policies to better our lots. Our concern must be on how best to change the paradigm that makes Ghana a begging nation to that of a globally competitive country. We are not doomed at all; our leaders have failed to lead. We cannot cite the despotic failures of the past to justify our current erratic power supply, rising depreciation of the Ghana Cedi, increased unemployment, wanton corruption and insolvent state institutions. This is because over 20 years of stable political state practicing so-called democracy is enough to change the fundamentals of our country and give to the people a prosperous and decent society.
We cannot measure our democratic credentials just on the score of how many peaceful political transitions we have made; but rather how developed our country has become. Our governance trajectories must go beyond electoral victories. The dream of a developed nation remains viable and we must collectively endear ourselves to this cause.
Adama Bukari
05/11/2015
Email: [email protected]
.
The writer is a leadership, governance and social justice activist.