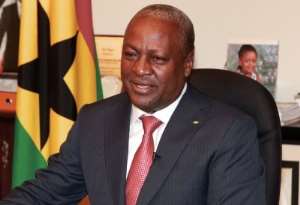 It is said that "He who has health, has hope; and he who has hope, has everything."
It is with this that the First Lady of the land her excellency Lordina Mahama on Thursday 17th September donated dozens of items to the Ejura Municipal hospital.
Appreciating the Godly work of the First Lady, the Kontihene of Ejura traditional area Diasempa Antwi Obugyei II on behalf of the traditional council thanked her for the love shown to the people of Ejura and it's environs and promised that the traditional council will do it's fair part to ensure that the hospital puts the items to good use to the benefit of all.
Touching on the development of the area, Nana Diasempa Antwi Obugyei II said and emphasized that the Ejura-Sekyedumasi municipality has seen an unprecedented development under the John Dramani Mahama led NDC government and therefore finds it very difficult to swallow when he hear people say the government has not done enough, " I sometimes hear people say the government has done nothing to comfort the country but we the people of Ejura have had and seen our share of his Excellency John Dramani mahama's good works and we will always be grateful and thankful for that". Pointing to the fence wall of the hospital funded by him (Nana Diasempa Antwi Obugyei II ) and the residents of Ejura, the chief said the traditional council has been doing and will continue to do what it can to support the government in developing Ejura and it's environs.
Nana Diasempa Antwi Obugyei II endorsing "ADWUMAWURA" an accolade won by hon. Muhammed Bawa Braimah the Municipal Chief Executive of the area, he said the honorable man truly deserve the name "ADWUMAWURA" because the municipality under him has seen changes in almost all sectors among which are the extension of electricity to about 54 communities, installation of ultramodern street lights in the municipal capital, expansion of school feeding program and LEAP beneficiaries, construction 8km township roads and many more.
Nana Diasempa Antwi Obugyei II on behalf of the traditional council and the entire municipality also pleaded with the government to provide them with a health institution which can help absorbs SHS graduates with the municipality and it's nearby districts and also produce more health personnel for nation as a whole.
Her excellency Lordina Mahama who was accompanied by the Ashanti regional minister hon. Peter Anarfi Mensah, Ashanti regional NDC chairman Mr Yaw Owusu Obimpeh and other NDC executives thanked nananom of the Ejura traditional area and the general public for the warm reception and promised that the LORDINA FOUNDATION and the NDC will continue to do everything within their capacity to make life easier for Ghanaians.