Beautiful flowers grace the opening of gardening exhibition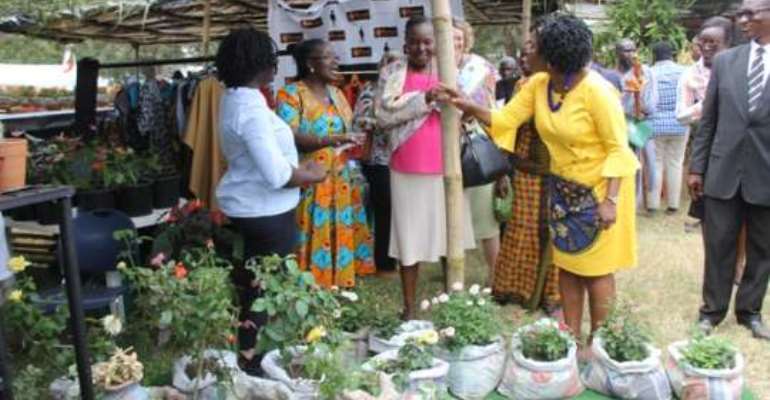 Accra, Sept 10, GNA - The Afua Sutherland Children's Park has been transformed into a temporary decorated flower designed garden with several types of blooms, beautiful and colourful floweret, to set the stage for 2015 Ghana Garden and Flowers Show in Accra.
The Flower Show being organized by StratComm Africa, an event management organization is to celebrate the beauty of flowers and gardening and its importance to humans, attracted people from all walks of life.
Hundreds of people who trooped to the Flower Show were welcomed with the sweet smooth scented aromatic flowers artistically planted in ceramic vessels, crafted baskets as well as distinct arrays of flower beds built for the purpose.
This year's event did not only include the exhibition of flowers, but also the organization of workshops, conferences, and business networking.
The event which is the 3rd in the series did not only attract the display of different species of both known and unknown flowers to prospective buyers, but also education on services provided by organisations such as the Access Bank, which was a major sponsor and other service delivery institutions.
As part of the show, various artifacts including furniture, African wears, agriculture equipment - tractors, herbs, dairy products, vegetables, and arts work were put our for sale.
In an interview with the Ghana News Agency, Mrs Imelda Yartel, a florist, expressed her appreciation to StratComm Africa for unveiling variety of flower species.
She called for regional shows and exhibition so that avid florists would also benefit.
Mr Olettey Yarboi, a herbalist expressed the hope that the exhibition would not only grant him good sales, but would also enable patrons learn more about herbs.
The 2015 Flowers and Gardening Exhibition also saw companies such as Florens Creation and Designs, Alpha Beta Flowers and Outdoor Living Garden Centre which deal in landscape designing, planning, floral décor, event management among others, also showcasing their piece.
GNA