Taxi driver fined for driving without license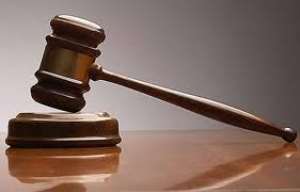 Half-Assini, Sept. 10 GNA - A Half-Assini Magistrate Court has fined a taxi driver from Ahobre near Half Assini, a total of 1,080.00 Ghana Cedis, for committing various traffic offences.
Kwasi Tawiah was fined 720 Ghana Cedis for careless and inconsiderate driving, and 360 Ghana Cedis for driving without a licence.
Tawiah who pleaded guilty to all the charges, will go to prison for six and three months imprisonment in hard labour respectively.
The sentences are to run concurrently.
The court presided over by Mr Abdul Majid Illiasu, cautioned Tawiah not to drive without valid licence.
The convict pleaded guilty to both counts of careless and inconsiderate driving, and driving without licence, and was convicted on his own plea, but the court deferred sentence.
He was, however, placed in police custody for the police to trace the car owner who permitted him to drive the car without licence.
Prosecution, Police Corporal Richard Amoah told the Court that Tawiah, driving a Fiat Merea Taxi Cab at about 1830 hours on Monday August 31, overtook a police vehicle driven by the District Police Commander at Akenya Egyanebo, a busy place in Half-Assini, without due attention to other road users.
He said in the process, he nearly crashed head-long with a vehicle from the opposite direction being driven by a BNI officer and was arrested and sent to the Half-Assini Police Station where it was revealed that he had no driver's licence.
GNA