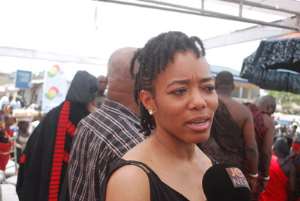 Dr. Ezenator Rawlings Executives of the ruling NDC in the Korle Klottey constituency in Accra have said they are not sure of the commitment of parliamentary aspirant Dr. Ezenator Rawlings.
According to the constituency secretary Richmond Dizzy Quaye, the daughter of the former President is not known in the constituency.
"Well, she is not known in the constituency and we the executives are not really aware of her. I can't say the NDC members in this area know her as an active member," he told Starr News' Ibrahim Alhassan.
Dr. Ezenator Rawlings Friday picked forms to contest the Korle Klottey primaries of the ruling National Democratic Congress (NDC).
The forms were picked on behalf of the social activist.
The ruling party will hold parliamentary and presidential primaries on November 7.
Dr Rawlings will have to beat the incumbent Nii Armah Ashietey at the primaries to keep her hopes of annexing the seat alive.
Meanwhile, pollster Ben Ephson has advised her to keep her father from her campaign if she is keen on winning the seat.
'She has a good chance of winning the seat if she wins the primaries. But she must not involve her father too much; for the simple reason that there are certain NDC members whose families suffered under the June 4 and 31st December issues.
'On her own, she can campaign and win. If she involves her father, she is likely to suffer reactions from her father's past,' Ephson said.
Source: Starrfmonline.com