Greater Accra CPP declares support for Prof Delle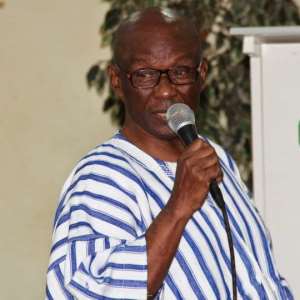 Accra, Aug. 29, GNA - The executives and members of the Greater Accra branch of the Convention Peoples Party on Friday declared their support for Professor Edmund Delle to become the national chairman of the party when it goes to congress in September, 2015.
According to the executives, the decision to support Prof Delle was because he was an outstanding member of the party and also had the pedigree to steer the affairs of the party to victory in 2016.
Speaking during a press conference to announce their support, Mr Richard Nat Nanyo, Greater Accra CPP Regional Secretary, noted that, Prof Delle would be the best candidate to continue with the good works that Samia Nkrumah had initiated towards capturing power in 2016 for the CPP.
'We believe he will rightfully continue with the good works that our outgoing chairperson, Samia Nkrumah started and even initiate more projects across board that will see the CPP capture power come 2016,' he added.
He praised Prof Delle for being a fatherly figure and a unifier, who will unite the Nkrumaist front to achieve victory in 2016, adding that, he would also bring to bear his decades of political experience and maturity to foster victory for the party.
'We the regional executives with the support of our constituency executives have absolute hope in Prof Delle and will therefore vote for him in the upcoming delegates' congress in September 2015,' he added.
Mr Mirimamoo Moses Ambing, Youth Organiser, Greater Accra CPP, said Ghana had been torn apart and had not made much progress since Nkrumah was overthrown and urged members of the party to vote Prof Delle into power to ensure that the party captures power in 2016.
He said the party would work to ensure that all the good plans that Nkrumah had for the country is implemented when the party captures power next year.
He called on President Mahama to deliver on his promise to give back to the party, its properties seized by the state when Kwame Nkrumah was overthrown in the coup of 1966.
He said the leadership of the party would not rest until they had reclaimed all that belonged to the party when Nkrumah was in power.
GNA