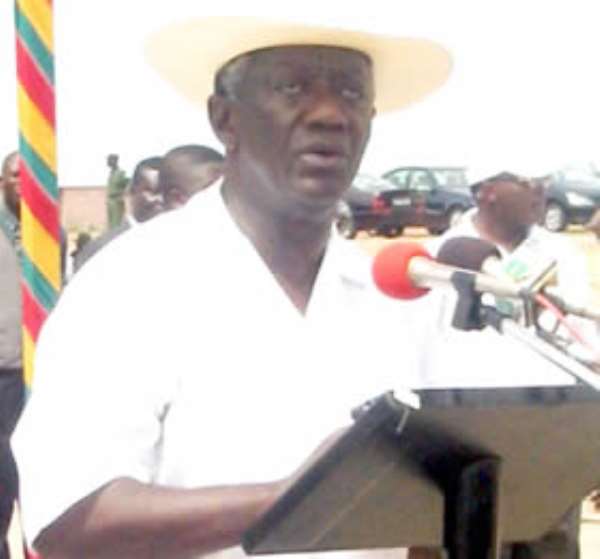 Ho, Sept 30, GNA-President John Agyekum Kufuor on Wednesday appealed to people in the newly created districts not to be disturbed about the location of district capitals but must exercise patience for peace to prevail for development.
He said issues such as security, accessibility and other factors were taken into consideration before a district capital was sited. President Kufuor made the appeal during a courtesy call on Togbe Afede XIV, the Agbogbomefia of the Ho Asogli Traditional Area, as part of his three-day tour of the Volta Region.
He said, "It is important for the people to trust the government that it is working in good faith".
"Citing of a district capital does not make or unmake development. It is the people you put in place to manage the area, the District Chief Executive and the Assembly members," the President said.
President Kufuor pledged the government's determination to establish the new Adaklu-Anyigbe District to work towards development of the area. "Our party is one of principle, a national party to open up opportunities for all people to develop the country", he said.
Togbe Afede had earlier pledged to help resolve the impasse over which town is made capital in the new Adaklu-Anyigbe District that was carved out of the Ho District.
He appealed to the government to implement the original plan to create a Ho West District as well to make Ho Municipality ''a real municipally in the real sense of the word.''
''Presently the geographical boundaries of the Ho Municipality extend beyond the statutory 25 kilometres radius,'' Togbe Afede said and asked that the Ho town roads be given priority in the road rehabilitation programme in the next budget.