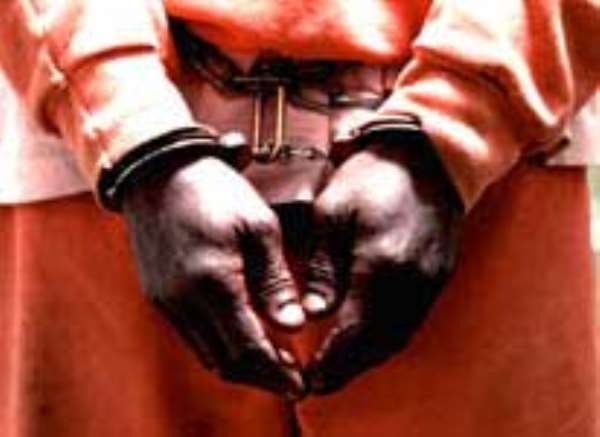 Accra, Sept. 28, GNA - Two Nigerians who attacked a family and stole monies and personal belongings at Taifa, in Accra, four years ago, have been sentenced to 35 years' imprisonment each by an Accra Fast Track High Court.
Austine Ogbonnaya Duru and Kenneth Obera Onuzuke Njuku pleaded not guilty to conspiracy and robbery.
But a seven-member jury returned a verdict of guilty on them. The case of the Prosecution was that on August 2, 2000 at about 0100 hours Mr Matthew Mensah and his family were in their house when a group of armed men including the accused persons attacked them.
The Prosecution said they made away with 1.7 million cedis, a cell phone and its charger, a Sanyo tape recorder and an electric iron. At about 0210 hours on the same day Duru, Njuku and one other person now at large hired a taxi to Dome.
Prosecution said when the accused persons arrived they alighted and entered into the bush.
The taxi driver became suspicious of their acts and reported them to people in the area.
The Prosecutor said later the accused persons emerged from the bush with a jute sack but the third accomplice escaped. When the bag was searched some of the items stolen from Mr Mensah's house were found in it.
Mr Mensah identified Duru and Njuku together with the stolen items during an identification parade at the Criminal Investigations Department of the Ghana Police Service on September 20, 2000. Mr Mensah's wife also identified Njuku and Duru as those who attacked them.