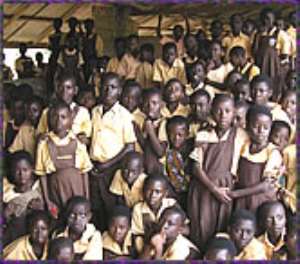 'Speech is silvern, but silence is golden'
A common antithetical saying
'If you go to a certain environment and
You're not too familiar with the turmoil, it is
Better to listen more and talk less otherwise
You are likely to goof'
Peter Tetteh Korda
(Ghana National Association of Teachers)
MRS MATILDA AMISSAH - ARTHUR was not given the informal title 'Second Lady' all the time she was married to Amissah - Arthur, Esquire till he (that is, Amissah Arthur Esquire) became Vice President. The Second Lady had in September 2012 declared at Cape Coast that 'God has blessed my husband; God has blessed Cape Coast'. She was appealing to the Ghanaian electorate to give the NDC their vote for a one touch victory. Her prayers were 'answered' by fair or foul means. She has continued to enjoy her status as the Second Lady or Vice First Lady. Supporting the call was Osabarima Kwesi Atta II, Chief of Oguaa when Amissah-Arthur visited the Cape Coast palace. He had remarked: 'God be with you. Thanks for visiting us at home. Go and bring victory'. All the people who know Mrs Amissah-Arthur, talked nicely about her - her respect, her demeanour and her general attitude towards other people. They say she tries to avoid trouble.
Matilda is very much like Lynne Cheney, wife of U.S. Vice President Dick Cheney under George Bush. She championed educational reforms. Lynne Cheney is the author of many award-winning books. In 'American Memory', she warned about the failure of schools to transmit knowledge of the past to upcoming generations. She noted: 'A system of education that fails to nurture memory of the past denies its students a great deal'.
Being a Fellow of American Enterprise Institute, Lynne Cheney emphasized the particular value of knowing the history of the United States of America. She noted: 'One of the most important lessons we can learn is that liberty isn't inevitable' and added: 'This realisation should make the liberty we enjoy all the more important to us, all the more worth defending'.
To demonstrate her love for students and pupils, Mrs Amissah - Arthur has been going round the country distributing computers to help in the setting up of Information Communication Technology centres in schools. The computers, we learn, have been offers from donors, including Japan. We must be grateful to the donors for their gesture—forget about our importunate demand, going cap in hand to beg for freebies! The Second Lady assisted Audrey Obuobisa-Darko, the 14-year old student of the University of Ghana Basic School to launch her book 'Wahala Dey' at the Pan African Writers' Association (PAWA) House, Roman Ridge, and Accra. A professional librarian herself, she urged the young and old to inculcate the habit of reading and writing.
So, it came to pass that the Second Lady went to Kukurantumi with a retinue of Very Important Personalities and not so– important personages to 'dash' one school five sets of computers. An impertinent, audacious, immodest, discourteous headmistress of the beneficiary school cheekily dared to draw the attention of the government (through the Second Lady) to provide the school with chalk. But despite her impetuousness, the request appeared innocuous: 'The elders say if you want to communicate something to God, you say it to the wind. We are, therefore, requesting you to tell government to come to our aid with these things which are in short supply in the school'. Chalk? The Second Lady fell into a tantrum and, as if hypnotized by Belzebub, she 'dressed down the headmistress'.
She could not understand why the teachers at the school could not be innovative enough to woo the 'old boys' and the 'old girls' or the PTA to supply the school with chalk and other basic materials. One may ask: what is a computer to a school without electricity, if that school has no chalk for the blackboard?
The Second Lady retorted rather insouciantly: 'I will not give you chalk today; I will not give you chalk tomorrow…' So, the Second Lady had turned into a GES or GNAT official to supply chalk and further expressing the difficulty in passing on the request to the government. Fela Anikulapo Kuti, the great Nigerian musician used to sing 'Who are you, leh'. In our school-days, we used to challenge one another 'Who are you and what are you'. This kind of fight by word of mouth, I believe existed also in the schooldays of I.K. Gyasi. The attitude of the Second Lady is captured In Shakespeare's 'Measure for Measure', where Isabella remarks: 'Could great men thunder…For every pelting petty officer, Would use his heaven for thunder…but man, proud man, Dress'd in a little authority, Most ignorant of what has most assur'd—His glassy essence—like an angry ape Plays such fantastic tricks before high heaven As makes the angels weep; who, with our spleens, Would all themselves laugh mortal'.
Kofi Akordor puts the issue in the right perspective when he states in his column 'From my Rooftop' in the Daily Graphic of 21/7/15: 'If the Second Lady is frustrated to hear a request for common chalk for a primary school, the headmistress and for that matter the teachers and pupils are even more frustrated that such a basic tool is missing in a country whose leaders parade such opulence'.
Grammarians may argue about the use of 'silver' and 'silvern' in the antithesis: 'Speech is silvern, silence is golden'; in re- arranging the words or in substituting them, if 'speech is silver, silence is gold'. Noun for noun; but many grammarians see 'silvern' (adjective) as archaic, or used only poetically, the essence remains that keeping one's mouth shut is a great virtue and that silence is desirable.
Thus, the Second Lady, being the second mother of the land, should have used the occasion to keep her words soft and sweet, because she never knew when she would have to swallow them. Someone thinks in such circumstances, Nana Konadu Agyemang Rawlings would have scored high marks. Like her husband, Flight Lieutenant Jerry John Rawlings, Nana Konadu would 'hu - hu' and 'ke - ka', to wit, 'soothe - and - bite'; a strategy for soliciting votes for her husband. Or has the NDC dropped its objective of providing 'quality education'?
Some of us have very fond memories of the innovativeness of some of our teachers. I can recall my Form Four teacher, Cornelius Amekugee who graciously guided me to become a teacher. Or talk about Mr Anamang of Suntreso LA Primary or Mr Adu Poku who demonstrated great love for me and supported me financially. Later in my life, I was to enjoy the greatest beneficence of my English Language teacher, Mrs Lucy Peprah - Tawiah at Akrokerri Training College.
At Jack and Jill School the Second Lady is reported to have apologised for her demonstration of insensitivity, callousness, and arrogance that were on display at Kukurantumi. She has apologised, so should we keep our mouths shut?
People go to the University and other institutions of higher learning to study Sociology, Political Science, Psychology and other behavioural sciences. I am yet to learn of an institution that teaches behaviour in active politics. Perhaps it is true to say that one is guided by one's behaviour in one's school days to mould character, and this is carried through one's life.
Fuseini Donkor of the NDC could not understand why the Second Lady was being criticised for her utterances - that it 'beats (his) imagination' how the Second Lady was being attacked, giving the whole situation a political twist.
Those who responded to the call of Mrs Juliet Oppong for chalk by supplying the school with many boxes of chalk are rather being criticised for the show. Why? If the Second Lady has refused to help, what stops other people from demonstrating their magnanimity? If NPP takes advantage of the situation to 'sell' itself, what crime have they committed? Which opposition political party will not take advantage of the governing party's faux pas?
Professor Kwasi Ansu Kyeremeh notes in his column 'My Beef' in the 'Daily Guide': 'My compatriots, after spending USD 156 million to buy chalk, there is no chalk anywhere'!
Did you know that dried cassava can be used in place of chalk? Try it. That is 'home-grown' policy a la NDC—a great opportunity for reviving Alan Kyeremateng's project to provide jobs for the inhabitants of Kasoa and the surrounding areas. Or go to the 'invalids' who have produced so much chalk, they are mostly going waste!
Africanus Owusu – Ansah
[email protected]