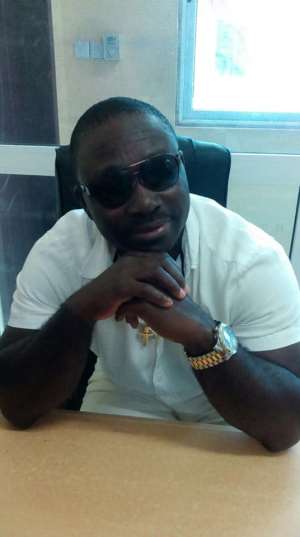 Sensational Radio Presenter, Lindsford Kwabena Asare, known as "Bishop Otwinoko"thrown listeners of Luv fm in kumasi into a state of anxiety on July 20th when he breaks his silence about his where about in the radio industry and his current state.
The Celebrated Radio Presenter accused his former colleagues at Nyhira fm and that of Fox fm for contributing to his health stragles over the years .
Otwinoko told host of Luv fm' s Metropolitan Mix Anita that, his former cohorts sabotaged his works both physically and spiritually. He said some of them plotted fetish priests against him, "they practice occultism when I used to work with them in kumasi.
Anita asked whether he wasn't in good terms with his subordinates but Otwinoko quickly clarified that he catered for them in several ways, "I even paid some of them school fees, I paid their house rents, I bought boxer shorts and singlet for them , I did every thing including food" he added.
Kwabena Asare who failed to mention names of his former cronies who were behind his current state of life assured luv fm listeners and the people of kumasi that an appropriate time he will come out to name and shame those behind his struggles.
"I will throw my bomb at the right time but now let me tell my funs that am doing well and kicking, as am talking to you on phone , am at a gym center so is never true am dead or paralyzed" he stated. Otwinoko's voice, for the past five years now, has been conspicuously missing on the airwaves, and that his listeners became very alarmed, thinking he had 'passed
away'.
He failed to disclosed that whether he is currently visually impaired or he is having an eye problem. Otwinoko has been grappling with a strange illness, and was on admission at the Komfo Anokye Teaching Hospital Intensive Care Unit (ICU) but was later move to abroad for further treatments.
The radio presenter was a favorite in the regional capital's airwaves, and attracted many listeners, both home and abroad, into his fold of fans.
Otwinoko became the toast of many radio listeners, because of the dexterity with which he hosts his
program, made him a hot cake in the
radio business. He has worked for three different radio stations in the Kumasi metropolis. Linsford Kwabena Asare shot to fame at Mercury 91.5 FM, before he was poached under controversial circumstances by the Multimedia Group, where he worked for Nyira 104.5FM.
Otwinoko worked for the Multimedia Group for sometime, and later moved to the F-Giant Broadcasting Limited, owners of FOX 97.9 FM in Kumasi and now at Hot FM in Accra.