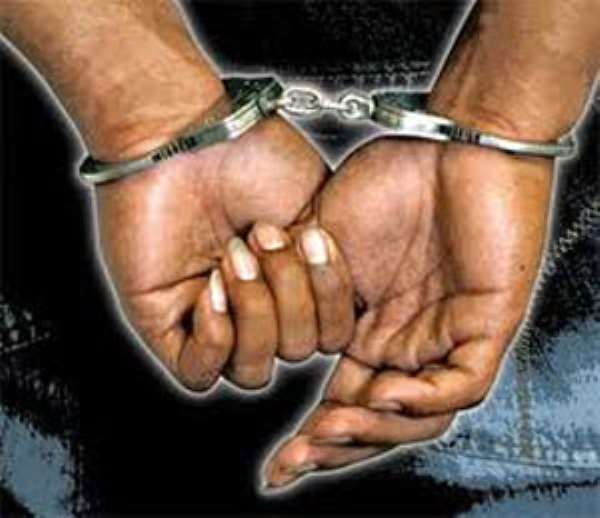 Two Bureau of National Investigations (BNI) operatives are behind bars for allowing the key suspect in the murder of the two African-Americans to flee, Starrfmonline.com can confirm.
Top security sources have disclosed to starrfmonline.com the two whose names are being withheld for security reasons were on duty when Anokye Yaw Frimpong escaped from the fortified national headquarters of the investigative outfit.
The self-confessed murderer of the two African-Americans at Akwamufie in the Eastern region of Ghana escaped on Sunday from the custody of the BNI.
A top reliable source within the security network of Ghana disclosed that Frimpong was re-arrested Wednesday at Prampram by a crack team of BNI operatives after jumping custody Sunday.
'It happened, but the issue has been dealt with,' the security capo disclosed. 'I don't know whether fresh charges will be preferred against him in court, but he is back in custody.'
Frimpong, a driver, confessed in court to killing MamelinaDiop, 75, and Nzinga Jaana, 69 at Akwamu in the Eastern region. He is standing trial with five others.
An Accra Human Rights Court last week granted bail to the five – Nana Appia-Nti III, a mechanic, Nana Obiri Yeboah, a farmer, Brenda Kareema Mohammed, a pensioner, Yazid Alazim Mohammed, a businessman and Mensah Kamaugogo Muata, a surgeon assistant.
They have been charged with 'conspiracy to commit crime to wit murder'.
Frimpong who is yet to have legal representation, was refused bail.
The suspects were first arraigned before court on Tuesday, May 12, 2015.
The deceased persons, MamelinaDiop, 75, and Nzinga Jaana, 69, were found buried two days after the crime. The two who were pensioners from the American Civil Service were allegedly murdered over a 218.5 acres of land at Fiahankra near Akuamufie also in the Eastern region.