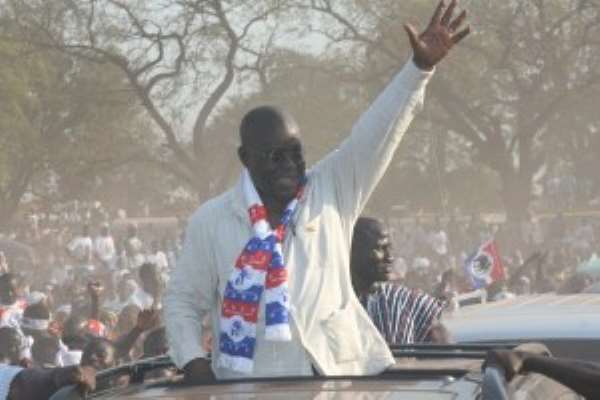 Why is the NPP unraveling at this crucial period in our republic's history, when our economy is in free fall, corruption at pandemic levels and the energy crisis nickname dumsor literally paralyzing our economy? As many Ghanaians lick their wounds for electing the worst most corrupt president ever elected and hold out hope for a regime change, our largest most viable political party is having a meltdown for the dumbest of reasons.
A regional party chairman of the NPP is murdered and rather than carefully investigate and fish out the perpetuators of the hideous crime for punishment, a faction of the party with the tacit approval of the party flag bearer Nana Addo, have rushed to judgement to settle old political scores. So now Kwabena Agyapong and Afoko are being maligned as ringleaders of Haruna Adams' murder -- and President Kufuor and other Alan Kyeremateng loyalists are co-conspirators. Only in Ghana can such lunacy be tolerated and become cemented as facts in the court of public opinion!
Does the NPP have a leader? What is Nana Addo doing about this insanity, pandemonium and self-destructive conduct? So far nothing. Why should he, when the blaze set by his allies is consuming his perceived enemies with impunity. But what he is ignoring is the threat of the conflagration racing to destroy himself as well - as it could doom Nana Addo's chances in 2016.
Allegations against Affoko and Kwabena Agyapong are the most preposterous charges I have ever heard in politics. And Nana Addo's mute silence -- if not tacit approval of this insane attack -- smacks of cowardice, weakness and a lack of vision. Does Nana realize this dangerous and ill-conceived Machiavellian attack on his perceived party rivals could spell doom and defeat for him in 2016 as well? The NPP is already on a self-destructive path, even though the 2016 election is a good 18 months away. This fast spiraling but manufactured crisis might hand the inept, graft-ridden incumbent regime a third straight electoral victory. Yes, that nightmare scenario of a kleptomaniac regime retaining power against all odds is looking plausible now -- and the bulk of the blame should be laid squarely at the door step of party flag bearer, Nana Akuffo Addo.
Internal strife within the NPP has been festering for years now on Nana Addo's watch, but surprisingly he has not done anything to bring order and promote unity. Rather than lead and rise above the fray by focusing on marshalling his party's maximum strength to defeat a disastrous incumbent, Nana Addo has allowed himself to be sucked into the petty internal party strife that has contributed to two straight electoral losses in 2008 and 2012. Will this tragic trend continue in 2016? We don't know the answer to that yet, but what is obvious is that the despicable attack on Affoko and Agyapong presents a bad omen for NPP and Ghana in 2016.