A Protest March Against The Introduction Of Genetically Modified Organism (gmo's) By Farmer In Ghana.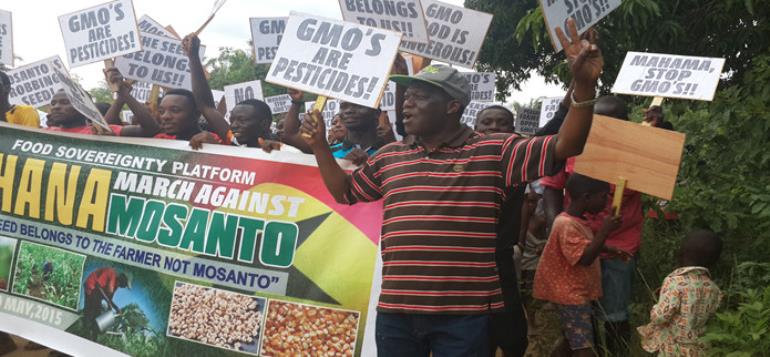 Small scale farmers and Civil Society Groups have held a spirited march against the United States GM seed producing company Monsanto to protect their own seeds. The successful march that brought over hundreds of farmers was nearly sabotage by the Municipal Chief Executive of Dangwe West who believed the march will undermine government developmental projects in the area.
The organizers were however unperturbed by his threats and that his actions could be influenced by MOSANTO. According to Charles Nyaaba, the Porgramme Officer of Peasant Farmers Association of Ghana "we are not surprised with his attitude because MONSANTO can do anything to protect the interest"
The march was organized by the Peasant Farmers Association of Ghana, Centre for Indigenous Knowledge and Organizational Development and Agricultural Sovereignty Ghana with Support from KASA. KASA is a Civil Society Platform affiliate to Care Ghana for engagement in natural resources and environment.
The march started at 10:30am at Atuobinya, a suburb of Asutuare and lasted for about 3hours. There were similar others marches that took place in more than 68 other countries across the world. They call for the eradication of all barriers that threaten their livelihood and confiscate their inherent right to produce healthy and culturally appropriate food for their families and consumers.
This year's march was held under the theme: "The Seed Belongs To us Not Monsanto" with protestors insisting that seed is a natural resource that must not be privatized to benefit of biotech companies such as Monsanto that seek to squeeze undeserved profits from the toils and labours of small holders.
The event provided an opportunity to share the benefits of agroecology in ensuring increased yield and to maintain the integrity of the soil.
Philip Anumah of the Osudoku Agriculture Society is appalled at the complicity of local agents in this harsh exploitation. "Too many crimes have been committed by the Ghanaian politician and policy makers for which they have gone unpunished. We have been deceived! No one cares any longer about the plight of the ordinary farmer in our country,"
"We stood under the heat of the sun and elected every one of the two-hundred and seventy five parliamentarians in the hope that they would protect our collective interest but our expectations have become bitter experiences.
47 year old Samuel Hoya and a peasant rice farmer does not believe in the miracle of the genetically engineered Golden Rice. According to him as populations are forced to move away from diversity to the consumption of single crops, malnutrition is most likely to occur.
He says the thinking that goes into fusing vitamin A into rice to provide nourishment for children ignores the fact that green leafy vegetables are the riches sources of Vitamin A but seed companies are not promoting that because it will not fetch them money
"Why must any decent minded Ghanaian or an African alive to his or her responsibility as a citizen and with knowledge of the history of slavery support a few greedy people to grab the seed market that forms the bedrock of our very existence," he questioned.
Below is the full statement released after the three hour protest march
STATEMENT ON THE PROTEST MARCH WITH THE THEME: "THE SEED BELONGS TO US NOT MONSANTO". ON 23RD MARCH 2015 AT ASUTSUARE IN THE DANGWE WEST DISTRICT IN THE GREATER ACCRA REGION.
Colleague Farmers present;
CSO'S Partners;
The Media;
Ladies and Gentlemen;
On behalf of the Peasant Farmers Association of Ghana and the Small Scale Women and Men Farmers in Ghana, the Agriculture Sovereignty Ghana, Centre for Indigenous Knowledge and Organisational Development, General Agricultural Workers Union, Ghana Muslims Mission and other platform members; I wish to welcome all of you to today's march against MONSANTO.
The march against MONSANTO is to guard the sovereignty of small holder farmers in Africa over their right to save seed, sell and exchange amongst themselves. It is a march to protect the dignity and the sovereignty of Africa; it is a march to protect our indigenous resources; it is a march against greed; it is a march for good health and vitality and a march against neo-colonialism.
Ladies and gentlemen; while the proponents of genetic modification of food claim that GM seeds are high yielding and pest resistant and that it will take farmers out of poverty, we are rather convinced that it will lead many small holder farmers to their graves faster.
The objective of MONSANTO, the largest GM seed company based in United States of America is to monopolize the seed market in the world and make the highest profits it can, with no concern for the adverse effects on livelihood of farmers.
Colleagues gallant farmers; in the US, American farmers been driven out of business when Monsanto sued them heavily because traces of their patented seeds were found on their farms. We cannot afford to have GM seeds anywhere around our farms because it is a threat to our survival.
In South Africa, where Monsanto has essentially been running Food Production Program (MFFP) on behalf of the government, 80% of Monsanto's Genetically Modified maize failed to yield in 2008/09. The farmers also expressed concerns about the GM crops which were inferior in quality to traditional maize, made people and animals who consumed it sick and which made the soil useless after a few years due to the chemicals farmers were instructed to use on their crops. In South Africa today over millions of the youth who were in agriculture are out of farming business and out of frustration have diverted their anger to other Africans claiming they are taking their Jobs.
Friends from the media; in Ghana, farmers are comfortable with their own grown seeds and have exhibited potentials to produce for domestic consumption and for export provided bottlenecks such as: feeder road networks; storage facilities; market infrastructure, extension service support, irrigation facilities; post harvest lost management etc are addressed. In 2009, 2010 and 2011 maize farmers produced enough that they could not get market leading to many going out of business; Indication that the problem in Ghana agriculture sector is not about seeds but other factors.
Ladies and gentlemen; there are three companies responsible for more than 50 percent of the sale of seeds: Monsanto, Syngenta and DuPont. Monsanto is one of the most influential enterprises working hard through Africa leaders to take control of the seed market from farmers in the name of improve GM seeds. The GM seeds are patented and must guarantee consistent results over a long period of time - ruling out further use of traditional seeds. With the acceptance of GMO's, Small scale farmers would no longer jointly collect seeds and sell the unpatented variety. Ownership would be transferred to companies, and that would actually mean the life of the people would be controlled by few interest groups and big companies - like Monsanto.
Ladies and gentlemen; in most of the developed countries such as: the United State of America, Mexico, India, Europe and others; consumers are now aware of the effects of GM food and are calling on Africa to supply them with organic food. MONSANTO market is dangling in America and other developed countries, hence his attention to take control of Africa seed and chemical industry. Africa leaders wake up; John Mahama Wake Up; Monsanto is here to drag our farmers into greater poverty and humiliation. Monsanto and the biotech industry is here to seek monopoly in our markets towards the maximisation of profit.
Colleague farmers; media present; ladies and gentlemen: the fight against MOSANTO is a most challenging one but we shall win. For our sovereignty; I call all to join the campaign to kick MOSANTO out of Africa so we can restore our dignity and our right to keep, exchange and sell our own seeds. Together we shall win.
Long live Africa! Long live Ghana! Long live our gallant farmers!
Thank you
CHARLES KWOWE NYAABA- PROGRAMME OFFICER
PEASANT FARMERS ASSOCIATION OF GHANA-0203035672