Ken Agyapong's Apology Is Dead On Target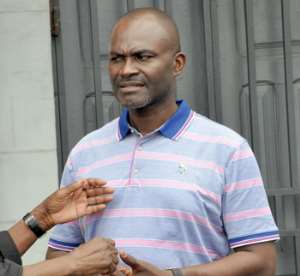 He may have sensed that he was going to be my next subject. I am, of course, talking about the hip-shooting firebrand New Patriotic Party Member of Parliament for Assin-Central, Mr. Kennedy Ohene Agyapong. He, together with Mr. Kwadwo Owusu-Afriyie (alias "Sir John") are the most significant point persons to the successful fortunes of their party's Presidential Candidate for Election 2016, Nana Addo Dankwa Akufo-Addo. But like many a no-nonsense mover-and-shaker, Mr. Agyapong does often shoot wide off-target. This is not intentional, however, it unmistakably emanates from the quite understandable desperation of the media mogul to get his party promptly back on track and straight into the Flagstaff House come January 2017.
Indeed, Mr. Agyapong's decision to vigorously campaign for the removal of Sir John, the sharp-shooting and hard-driving General-Secretary of the New Patriotic Party last year caught me by surprise. I had always known, by their plain and public hostility to the fortunes of Nana Akufo-Addo, all protestations to the contrary notwithstanding, that Messrs. Paul Afoko and Kwabena Agyei Agyepong, no relation to Mr. Ken Agyapong, were poisonous party poopers who had absolutely no business being elected National Chairman and General-Secretary, respectively, of the NPP on the Presidential-Candidacy watch of three-time flagbearer Nana Addo Dankwa Akufo-Addo.
It was also facilely predictable that in campaigning to oust both Mr. Owusu-Afriyie and then-NPP National Chairman Jake Obetsebi-Lamptey, the Assin-Central MP had put his foot in his mouth. And so Ken Agyapong's decision to profusely apologize to Messrs. Owusu-Afriyie and Obetsebi-Lamptey is perfectly in order (See "Kennedy Agyapong Apologizes To Sir John" Adomonline.com / Ghanaweb.com 5/13/15). It was just a matter of time.
Now, what needs to happen for the New Patriotic Party to get back into the mature-adult business of mainstream politics, is to amend the party's constitution to enable the flagbearer or presidential candidate reserve the right to selecting his/her own administrators at party headquarters, made up of people whom that party leader feels happy and comfortable working with for the utmost and superior interests of the party and, by extension, the nation at large. This is the established protocol in many an advanced democracy like the United States. Putting the flagbearer in the unenviable position of having to fight his/her topmost party administrators while simultaneously fighting his/her main political opponents for power is a recipe for disaster.
It may be too late and even patently inexpedient to change the party's Constitution mid-stream, but the critical question of the imperative need for the flagbearer to choose his/her own team for a general election must be tabled up for the next party primary or internal referendum. The New Patriotic Party cannot elect party administrators whose aims and objectives are at cross-purposes with those of its flagbearer and expect a manageable victory at all levels of a general election. Prof. Albert Einstein had it right more than two generations ago.
Still, I am also glad that, finally, the leaders who matter most in the onward march of the New Patriotic Party towards the Flagstaff House, come January 2017, are listening with rapt and sedulous attention. Not long ago, I counseled in one of my columns about the imperative necessity for Nana Akufo-Addo and those who have the progress of Ghana at heart to form a parallel administrative structure at party headquarters.
Now, the next step is to mount an effective national campaign in order to explain to ardent party members, supporters and sympathizers why it is imperative for Nana Akufo-Addo, NPP parliamentary leaders, parliamentarians and assemblymen and women to do things differently and with different people other than those "democratically" elected top-two administrators at party headquarters who assumed stewardship after the Tamale plenary delegates' congress last year.
As one astute and foresighted forum commentator put it pointedly recently, among others, "the NPP operatives who wish Ghana all the best are wisely building a firewall to prevent the incorrigible and impenitent arsonists in the party from collapsing it from within." The last leaders the New Patriotic Party either needs or deserves are absentee leaders and those who think eating Kumasi Fufuo is more important than strategizing for the party's good fortune at Election 2016.