National Debt Rises To GH¢88bn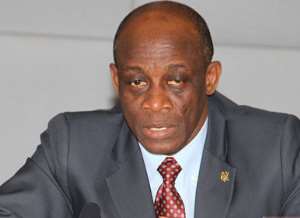 Seth Terpker, Finance Minister
Ghana's total public debt stock has now reached GH¢88.2 billion from GH¢ 76 billion as at the end of March 2015.
The debt stock of the country has increased astronomically since the National Democratic Congress (NDC) assumed office in 2009.
The current NDC administration inherited debt stock of GH¢9billion in 2009 but has succeed in increasing it to GH¢88.2 billion, representing 65.3 percent of Gross Domestic Product (GDP).
Of the total, domestic debt constituted 41.4 percent and external 58.6 percent, according to Dr. Kofi Wampah, Governor of Bank of Ghana (BoG).
Fiscal Data
He said fiscal data for the first quarter indicated that the fiscal consolidation efforts were on track, adding that revenue and grants were above target on the back of strong growth in domestic revenue.
Dr. Wampah said expenditures were below target, as the major items, including the wage bill, were contained within target.
'These resulted in a cash fiscal deficit equivalent to 0.6 percent of GDP, against a target of 1.9 percent.
The deficit was financed mainly from external sources totaling GH¢1 billion with a domestic net repayment of GH¢278.2 million,' he said.
Deficits
For the first quarter of 2015, the Governor said the Balance of Payment (BOP) registered a deficit of $849.4 compared to a deficit of $920.7 million for the same period in 2014.
He said the deficit was mainly due to a sharp decline in the capital and financial account while the current account recorded some improvement.
'The current account deficit narrowed from $1.1 billion in the first quarter of 2014 to $549.3 million in the same period of 2015. This was driven by an improvement in the services, Income and Transfer account,' the Governor said.
However, he said the trade deficit worsened from $215.1 million to $446.2 million.
Gross Foreign Assets
Dr. Wampah said the country's gross foreign assets at the end of April 2015 stood at $4.8 billion, representing 3.2 months of import cover compared to $5.2 billion for 2014 which represented 3.2 months' import cover.
By Cephas Larbi
[email protected]