Calls grow for inquiry on sexual abuse by UN peacekeepers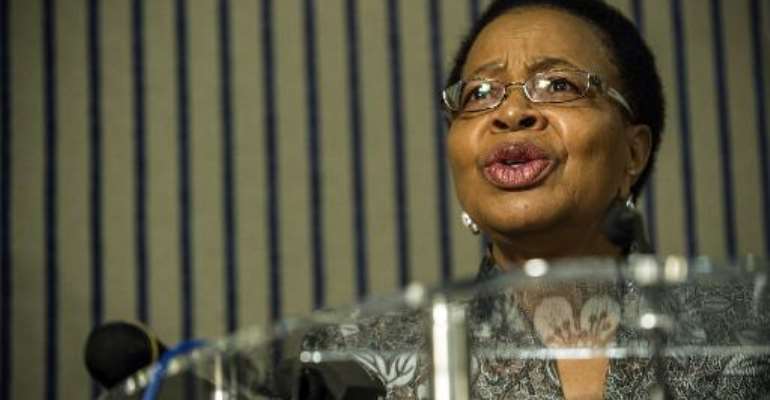 United Nations (United States) (AFP) - Nelson Mandela's widow, Graca Machel, joined prominent activists on Wednesday to call for a full inquiry on sexual abuse by UN peacekeepers and personnel following the furor over alleged child sexual assaults by French troops in the Central African Republic.
The campaign dubbed "Code Blue" is to demand change in the United Nations' handling of sexual abuse allegations and hopes to enlist countries in a push for action.
Machel, who headed a UN study 19 years ago on the sexual abuse of children in conflict, lamented that "things have not changed, not improved."
"They have gotten worse," she told a news conference alongside former UN force commander Romeo Dallaire and other humanitarians.
Spearheaded by the non-governmental organization AIDS Free World, the group is demanding as a first step that there be an end to immunity afforded to UN personnel.
Paula Donovan, co-director of AIDS Free World, insisted that while UN chief Ban Ki-moon had waived immunity in cases involving sexual crimes, the bureaucracy surrounding the procedure had impeded investigations.
It was this immunity that allowed the United Nations to block French investigators from questioning UN rights officials who filed a report after interviewing children in the Central African Republic.
The children, among the tens of thousands of displaced people sheltering at a camp near the Bangui airport, told UN rights officials that they were sexually abused in late 2013 by French soldiers in exchange for food.
French investigators were allowed to submit questions in writing to the UN authors of the report and received written replies, prompting Paris to open a formal investigation.
"A commission of inquiry would show a speedy way of getting to the perpetrators," said Machel. "It can be done."
- Troops sent back -
The United Nations has been under fire since the report on the sexual abuse of children by French, Chadian and Equatorial Guinean troops surfaced in the media last month.
Save the Children was among 21 organizations that wrote an open letter to Ban this week describing his response to the report as "deeply unsatisfactory" and calling for action.
A former UN force commander in Rwanda, Dallaire said the bureaucracy surrounding sexual abuse cases was such that "more often than not, instead of an investigation, you see a plane arrive and a whole bunch of people being sent back."
The lieutenant-general spoke of a "culture of silence" within UN peacekeeping missions and said force commanders should be given more authority to deal directly with allegations of misconduct.
Under UN rules, criminal allegations involving soldiers in a UN peace mission are handled by the troop-contributing country, according to their national laws.
UN officials have stressed that immunity is not the problem in dealing with sexual abusee cases but rather ensuring that countries investigate and prosecute the alleged perpetrators.
"We want nothing more than accountability and justice," UN peacekeeping official Tony Banbury told reporters.
"But the tools given to us to achieve that are very, very limited. We can't lock someone up. We can't put them in front of a judge."
"We have to work with the troop-contributing countries or the national authorities."
A UN internal oversight report released last month showed that allegations of sexual abuse against UN personnel and troops had gone down from a high of 127 in 2007 to 41 last year.
But AIDS Free World argues that the figures are deceiving, because in some cases a single allegation could implicate five or more alleged perpetrators.
"Our track record, if you look back over the last decade or so, has greatly improved in terms of lowering the number of cases, increased transparency of reporting cases," said UN spokesman Stephane Dujarric.
"This is one of those issues where we can always do better."