Two traditional areas clash over jurisdiction of Dumsor vigil location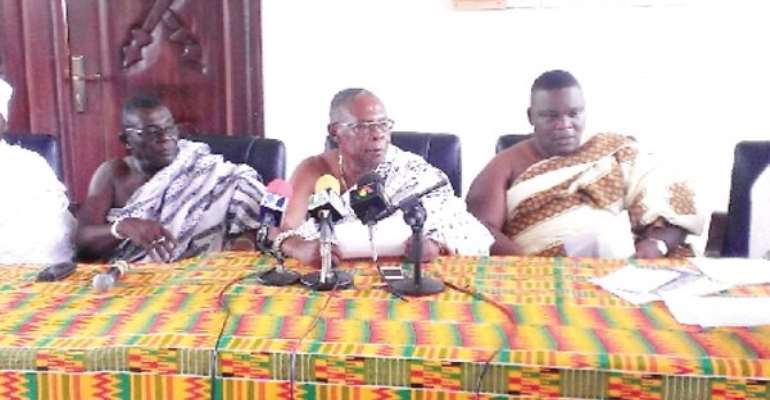 The Shiashi location of a protest march by some celebrities has become the center of a struggle for ownership with the Ga Traditional Council, insisting that the Shiashi venue is under their jurisdiction.
Although the La Traditional Council had given an all clear to the organisers of the vigil , the acting President of the Ga Traditional Council, Nii Duodu Nsaki remains resolute in his insistence that the vigil scheduled for Saturday May 16 cannot happen.
"Where it is [Shiashi], is all part of Ga traditional area so we said they mustn't do it. Why can't they wait for one month?" he said.
The Ga traditional council which has imposed its annual ban on noise-making says the ban extends to Shiashi. The ban on noise-making is to allow the gods some peace and reflection ahead of the Homowo festival.
It suggests that the Dumsor vigil cannot come off because the Council suspects that it could turn noisy.
"They should give us one month. We can't ban them forever. We all support them. Is there a guarantee that it is a vigil? How can they guarantee us?" Nii Duodu Nsaki expressed fears.
"No way! I said no way! No no no", he insisted on Joy News Tuesday.
He lamented that the vigil is bringing confusion among the traditional areas and blamed "this small vigil" for the apparent division.
But the chief priest of the La traditional council Chief Priest of La, Nii Yemo Obroni VII, says there is no ban on noise-making in the area.
He sees no cultural impediment to the celebrity-led protest on May 16 dubbed #Dumsormuststop.
Nii Yemo Obroni VII told Joy News Monday that "In the La land, everybody is making noise. You can make noise. You can do everything you like….any noise, anything!" he stressed.
Some celebrities including actress Yvonne Nelson are expected to be joined by hundreds of Ghanaians this Saturday for a solemn and peaceful gathering dubbed "DumsorMustStop".
The march is against what many believe is government's poor handling of a power crisis which has become a three-year persisting national irritant.
The one-kilometer walk from Tetteh Quarshie roundabout in Accra has faced three challenges so far.
The University of Ghana blocked an attempt to converge on its premises while Total Ghana, operators of On-the-Run eatery warned the organisers off its premises.
The Shiashi road side has now become the latest stumbling block.
Meanwhile, the Police will meet the two traditional councils and the organizers of the vigil at 2pm today.
Story by Ghana|myjoyonline.com|posted by EA