Satellites Bullish Ahead Of World Cup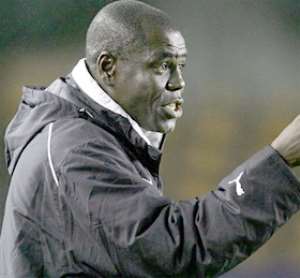 Sellas Tetteh
Sellas Tetteh believes the high level of competition in camp will help build a formidable team for the impending FIFA World Youth Championships.
The Black Satellites are scheduled to leave Accra for New Zealand on Thursday to participate in a four-nation tournament ahead of the World Cup in the same country.
Only 24 of the 35-man provisional squad have joined the team with the rest expected to join later in Auckland.
'There is competition in camp and that should be a platform for us to show improvement, progression and development,' he told Joy Sports.
'In a way we see it as a way of trying to build a very solid, formidable side that will represent the nation," said the coach who is heading to a third World Cup at this level.
'At the moment we're working very hard and besides that we are enjoying ourselves, trying to know each other, be close to each other, integrate and get along with each other.'
The Satellites played two friendly games at the Accra stadium on Tuesday. Their first game was against Westlanders FC which they won 1-0. Then they hammered Miracles FC 6-0.
Ghana, bronze winner in the last edition in 2013, is housed in Group B alongside Argentina, Panama and Austria in the World Cup which starts May 30.