Afetsi Awoonor Takes After Dad, Turns Poet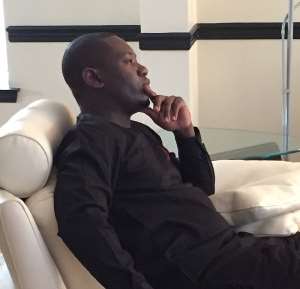 On Saturday 21st September 2013, Somali militant group Al-Shabab attacked the Westgate Shopping Mall in Nairobi Kenya killing a lot of people including celebrated Ghanaian poet, Prof. Kofi Awoonor who was in the country at the time for the Storymoja Hay Festival.
The brutal killing of Awoonor was witnessed by his son Afesti Awunoor who himself was injured in the attack. Speaking with Elaborbizonline.com December 2014, he said the whole event of the attacked and the subsequent condolence messages that poured in from important dignitaries across the globe made him to appreciate how great his father was, and also transformed his own life making him to resolve to do something for humanity.
Part of that resolution has started resonating in his work as he too has taken to poetry to speak about the ills in our world. This is evident in his latest poem entitled 'Nairobi Calls Again"
This poem was written few days after Al Shabaab launched another attack in Kenya's north-eastern town of Garissa killing about 147 university students on 2 April 2015.
In his poem Afetsi tries to describe the agony people living in Kenya are thrown into as a result of terrorist attacks:
Afetsi who studied Business Administration (Marketing Major) from the Central University College Ghana is currently at the Graduate Institute of International And Development Studies in Geneva and he is studying for an executive Master of Advanced Studies degree in International Oil and Gas Leadership.
His poem can be seen below.
NAIROBI CALLS AGAIN
We miss the winds of ascending chills.
Say a little prayer for the fallen souls
As desolations upon the sky and smokes billow
Keep careful watch over mother's home
A cry for vengeance, beckoning for closure
A woman scorned, dear to no one
Nairobi calls again, rocking the cradle of lost ones
Rest well comrade.
The apple of your eye blossoms still
more precious than gold.
Rest well conqueror.
The home remains brave and we stand bold.
Rest well beloved.
The house is steady still,
The beautiful town nurtures resurrected seed.
And though we limp through valleys unknown,
your light of dawn reveals the paths we stride.
With a lustful urge for a lover's touch
She calls as we charge on, bearing the Hippo's might.
For glory's sake, for liberty's fate
Foster the homeland gates
Where it all ended, and where it all began.
The baton is passed, Nairobi calls again...