IEA: Ghana's tolerance for corruption increases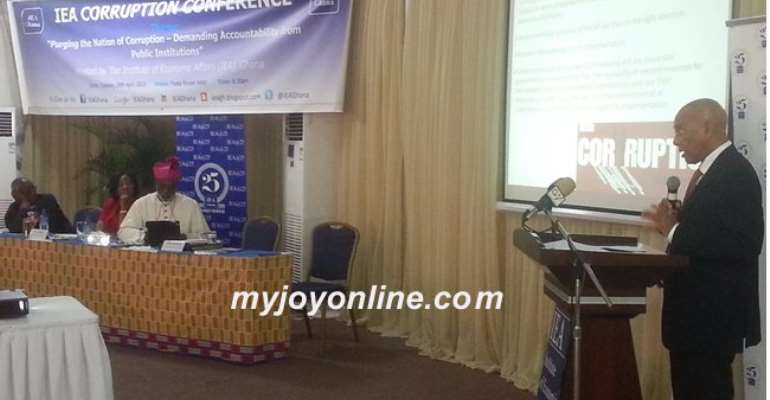 The Institute of Economic Affairs (IEA) says there appears to be no real effort by government to sanction public officials indicted for corruption.
Rather, the Director of the Institute Jean Mensah, says it is increasingly becoming clear that corrupt public officials have adopted a "let them say attitude. After a week they will get tired" and continue to enjoy their booty.
Speaking at a corruption conference held in Accra Tuesday, Mrs Mensah indicated that "our tolerance for corruption as a nation has grown to alarming levels."
The theme for the conference is "Purging the nation of corruption-Demanding accountability from Public Institutions." The conference among other things is to recommend possible ways of "strengthening anti-corruption institutions and to give them teeth."
Mrs Mensah found it worrying that several agencies established by law to fight the canker have failed woefully.
"It is a well known fact that there is no shortage of institutions and laws to confront this canker. The courts, the police, the CHRAJ, the EOCO and the Public Accounts Committee of Parliament and the Auditor-General's office are but a few of the state agencies that have a corruption-fighting mandate."
So then, one may ask how come the fight against corruption is becoming more and more tedious and almost impossible to win? she asked.
She said it is about time heads of institutions are held accountable for their stewardship.
Jean Mensah added if "effective measures are not put in place to check this menace now it will completely overwhelm us."
Chairman of the conference and Metropolitan Archbishop of the Catholic Church, Gabriel Palmer-Buckle said like the cynic philosopher, Ghana must begin the search for honest men.
These men, he said must champion the national anti-corruption action plan.
The IEA Corruption conference was attended by major players in the fight against corruption.