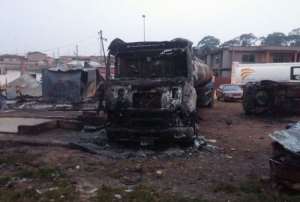 Some of the destroyed items at the filling station
A TANKER EXPLOSION has claimed three lives, including two siblings, at Agric Kokode, a suburb of Kumasi, the Ashanti regional capital.
The incident occurred on Sunday around 7pm when a fuel tanker caught fire whilst offloading petrol at a small filling station in the area.
The two deceased siblings were Michael Owusu Yeboah, 8 and Rosemond Owusu Yeboah, 6, who were burnt into ashes.
The explosion was so huge that the fire, which emanated, travelled very fast, consuming everything in its path, sources hinted.
The kids were said to be sleeping in a wooden structure close to the filling station when the ravaging fire trapped and killed them in a horrific manner.
Gordon Yaw Atiko, 43, driver of the tanker, also died of severe burns after he tried in vain to quench the blaze.
The bodies of the fire victims have since been deposited at the Komfo Anokye Teaching Hospital (KATH) in Kumasi for autopsy.
Confirming the distress story to newsmen, Mr. Adjei Fofie of the Fire Service, said his outfit received a distress call concerning a tanker explosion at Kokode.
According to him, when fire fighters rushed to the scene, there was thick blaze all over the filling station so they managed to douse it around 12 midnight.
Mr. Fofie said after the fire was quenched it emerged that 15 wooden structures and two metal containers close to the station had been burnt.
The fire fighter stated that he and his colleagues realized later that two siblings, who were sleeping in a wooden structure, had died.
Mr. Fofie posited that Gordon Yaw Atiko, driver of the tanker, in an attempt to put out the fire, got burnt to death in the process.
The inferno also burnt an Opel Astra vehicle and other items at the filling station, amid huge explosions which sent people running for safety.
FROM I.F. Joe Awuah Jnr., Kumasi