Some victims of May 9 were sent to mortuary alive - Pathologist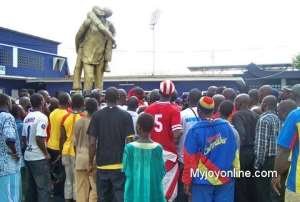 The 14th Anniversary of the disaster at the Accra Sports Stadium that claimed 127 lives would be marked on May 9. Now, fresh emerging details of the incident indicate many of the dead did not die from the disaster, but were suffocated subsequently to death in mortuary fridges.
Pathologist, Dr. Paul Poku Sampene Osei was present at the stadium when the disaster struck. He says some of the victims were unconscious, hence motionless, and mistakenly sent into the morgue fridges alive.
Dr. Sampene who is head of the Pathology Department at the KNUST School of Medical Sciences, and head of the Pathology Unit at the Komfo Anokye Teaching Hospital disclosed this to Joseph Opoku Gakpo in an interview for Joy News' Hotline Documentary, "Buried Alive."
The German trained medical practitioner explains head injuries suffered by a lot of the victims left them unconscious; a condition which could be similar to death. But volunteers and morgue attendants could not tell the difference because they lack medical expertise.
"They will not respond to pain, light, speak to them, whatever you want to do….but you would need someone with experience to be able to feel the pulse, otherwise you will just bundle all of them, and that is what happened on May 9th," he said.
Dr. Sampene told Gakpo he had to later intervene personally at the 37 Military Hospital, to insist that appropriate screening procedures are followed in confirming persons dead before placement in mortuary fridges. But before that, some live persons had already been sent in.
"At that time… nobody would listen, they started packing all of them into the police car… So I went to the 37 Military Hospital with them, in fact, the numbers that were coming were so overwhelming that the attendants were packing them into the fridge without any proper screening…the assumption was that whoever was brought in was dead."
He says the number of deaths could have been higher but for his insistence that the right medical screening procedure was followed. Adding, had the proper screening procedures been instituted earlier, the number of deaths would have been lower.
The disaster occurred during a game between Kumasi Asante Kotoko and Accra Hearts of Oak which had attracted thousands of supporters to the stadium.
Hearts had scored two late goals against Kotoko, which led to disappointed fans throwing plastic seats and bottles onto the pitch. The police fired tear gas in response, causing a stampeded. An official inquiry blamed the police for over reacting, and some police personnel were put before court over the disaster.
Listen to Dr. Sampene Osei below