Guinea braces for fresh protests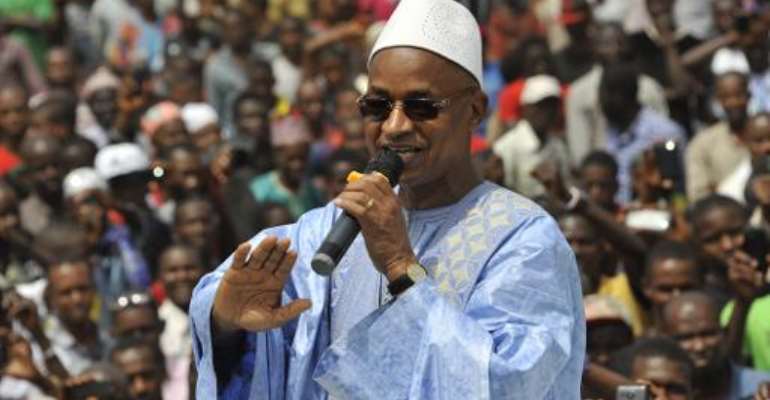 Conakry (AFP) - Guinean security forces took to the streets in huge numbers on Monday as the capital braced for fresh anti-government protests following deadly clashes between opposition activists and police last week.
The protesters, who are calling for a disputed election timetable to be scrapped, were due to march on the Conakry headquarters of Guinea's electoral commission.
The building was protected by an elite unit of the national police force equipped with batons, helmets and tear gas.
Conakry governor Soriba Sorel Camara said in a statement read out on state television that he expected that the Guinean opposition would be "throwing stones, dumping garbage and burning tyres on public roads".
He called on residents of the city of two million people to "go about their usual activities" and said the state would "take all measures" to ensure their safety and secure their property.
The main highway into central Conakry, usually choked with traffic, was almost deserted while shops, petrol stations and schools remained closed.
Elsewhere traffic was moving slowly as motorists were diverted to avoid areas where violence has broken out in recent protests.
"We have to take precautions because the country is no longer safe. Every day there are demonstrations, violence in the capital," said Macire Camara, a stallholder in the Kaloum business district.
"And if in the coming week it spreads across the country, we should be afraid."
A Guinean government delegation headed by justice minister Cheick Sako met opposition leader Cellou Dalein Diallo at his home for talks on Sunday.
"This step was intended to reiterate to the opposition the government's willingness to revive the dialogue -- the only route that ends with a calmer political climate and inclusive elections," a statement from the delegation said.
- 'The country will suffer' -
Diallo confirmed he had received the group of senior officials but emphasised that cancelling protests planned for Monday was "out of the question" without the guaranteed implementation of a 2013 agreement stipulating that local elections take place before a presidential contest.
Supporters of Diallo's Union of Democratic Forces of Guinea have protested over the electoral timetable, which they claim has been pushed through without consultation and gives the ruling party an unfair advantage.
They are also angry about the fragile security situation in the west African nation, which they blame on President Alpha Conde's government.
Hundreds of youths hurled stones at police who responded with tear gas and warning shots in two days of violence on April 13 and 14, bringing traffic to a standstill on a main highway into central Conakry.
The opposition said three people were killed, including an unidentified young girl, and 50 wounded -- at least 12 by gunfire -- during the clashes. The government put the number of dead at two, with "dozens" injured.
"We ask and even beg the government and the opposition to find a compromise to prevent our children a lost year, but if each party continues to flex its muscles, it's the country that will suffer," teacher Abdul Majid Barry told AFP.
The meeting between Diallo and the delegation took place just hours after the funeral of one of the opposition protesters killed last week.
The opposition has accused Conde of using the Ebola epidemic as an excuse to postpone voting and has called on supporters to back its demand to bring forward local elections due in March next year.