TT Brothers Company Donates To SOS Villiage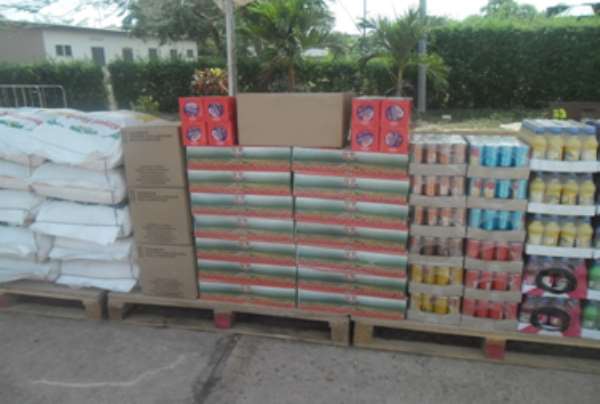 T.T. Brothers Limited, local manufacturers of Pure Joy Parlmalat of South Africa has donated food and drinks worth of 22,000 Ghana Cedis to the SOS village in Tema.
The items included 15 bags of Rice, 5 Uncle T tomato paste, 7 Candies,6 cooking oil and 30 cartons of fruit drinks.
Chief Executive Officer of the company, Isaac Tetteh, who lost his mother weeks a ago in an interview said the donation formed part of the company's corporate social responsibility, and would continue to assist the less- privileged in society to enable them feel at home.
He said the company over the years has been donating to the SOS village based on the agreement signed with the village to provide the organisation with gifts for every Christmas and Easter.
'For now is all about SOS village, because I have about four years to finish with them before any other orphanage 'he said.
He said Easter is about healing, forgiveness of sins, sharing to the needy and Christians must take this opportunity to show kindness to all.
According to him Christianity is not easy as some other religious body see it to be, but since Ghana is a Christian-dominated country, we must take advantage of resurrection and live Christ-like attitudes.
'I Have never regretted for donating to the needy and will never regret in the sense that it is gift from God and my late mother also taught us how give back to society. I have received messages from Canada, US and other country from children who had the opportunity to travel outside through SOS to show their appreciation and the importance of given.' He said'
'My mother's death came at a shock but showing appreciation to the needy must go on but trust me I will never stop giving to the needy'
The senior mother of the SOS who received the items on behalf of the organisation, thanked the company for its kind gesture.
She expressed hope that the donation would go a long way to improve the condition of the orphans since this year had been very challenging for them.
She therefore called on other corporate institutions to come to the aid of the village.
The company later held a party and a dancing competition for the inmates.