Lebanese Assist 16 Students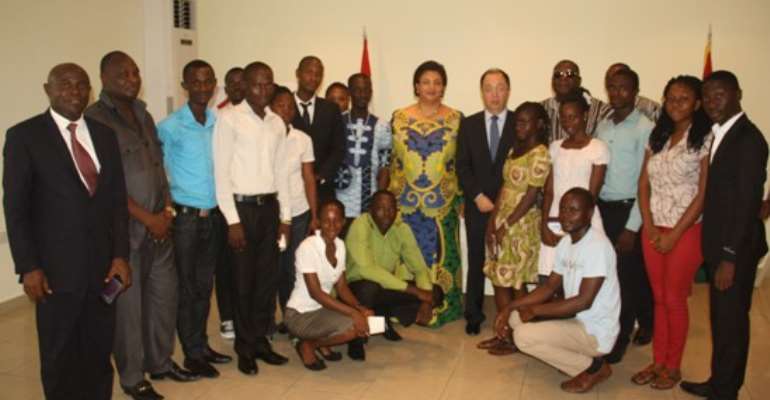 The Lebanese community in Ghana has taken its educational programme a notch higher by awarding scholarships to 16 students from various tertiary institutions in the country.
Unlike the community's previous award scheme, this year's benefitted tertiary students from deprived areas, particularly from the Central and the Northern Regions.
The beneficiaries from the various universities, polytechnics and training schools, included Emmanuel Kwaku Armah Junior (University of Professional Studies Accra), Priscilla Larbie (University of Education, Winneba), Adwoa Larbea Armah (University of Ghana), Samuel Ponku Tetteh (Cape Coast University), Kwashie Abbey Armah (KNUST).
Others are Fredrick Asante (University of Ghana), Godwin Mensah Agyeman (University of Cape Coast), Isaah Waaki (University of Cape Coast), Emmanuel Tagoe (Koforidua Polytechnic), Mawuwey Elizabeth (Bolgantanga Nurses Training College) and Tankeh Garvin Akwolaga (University of Ghana).
The rest are Joyce Bazania Chirabura (University of Mines and Technology), Awe Basido Douglas (Regional Maritime University), Rahimatu Alhassan (University of Development Studies), Barnabas Ave Abadu (University of Development Studies) and Adjei-Mensah Portia (University of Ghana).
Lebanese Ambassador to Ghana, Mr Ali Halabi, pointed out that the gesture formed part of the Lebanese community's quest to support the education system in Ghana.
'Our objective of supporting education in the country will not be complete if we don't reach out to the deprived communities like we have done today – awarding 16 needy students from the various tertiary institutions.'
He added: 'The community is very grateful to Ghana and its people who received the Lebanese migrants and gave them the opportunity to participate in the development of the country.
'All the Lebanese donors in this fund have their own Social Fund at the levels of their companies and some of them created foundations in their companies to give scholarships and to do other social activities.'
Emmanuel Armah, one of the recipients of the awards said, 'We have heard the good works the Lebanese community is doing to help education in the country. I didn't know a time like this will come for me to benefit from such a scheme; this is purely on merit, and I want to commend them for this gesture. It will encourage me to go the extra mile in my studies.'
Interior Minister Mark Woyongo said, 'I want to commend the Lebanese community and the ambassador for this initiative. Indeed, this is a significant contribution to the development of education in Ghana.'
Foreign Affairs and Regional Integration Minister Hannah Tetteh, in like manner, commended the community for the support saying, 'The scholarships are tools which will help these students realise their full potentials. Thank you for the initiative; it goes to show the already healthy ties between Ghana and the Lebanese Community.'
Dr Stanislaus Kadingdi, Municipal Chief Executive of Kassena-Nankana Municipal Assembly in Navrongo and Sampson Abbey Ahmah, DCE of Awutu Senya,  graced the event.