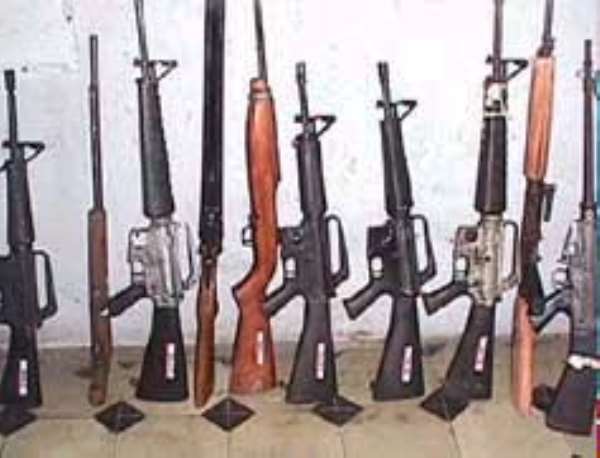 Cape Coast -- CREDIBLE sources close to the NDC in the Central Region have revealed that the NPP has stored a number of heavy arms and ammunition in the region to facilitate that party's intended violence in the count down to the December elections.
The source indicated that the arms and ammunition were imported from Israel and the storage has been under the supervision of a top-ranking government official in the region.
It is also in the domain of the NDC that the NPP government surveillance "Satellites" have been installed at various vantage points in the region and other parts of the country to monitor the activities and movements of NDC leading members in the region and to possibly attack them at the appropriate time.
The equipment according to the source, are also capable of recording speeches, statements and conversations of leading members of the opposition in the region.
In an interview in Cape Coast on Thursday with the region's Director of Operations of the NDC, Mr J. Allotey-Jacobs, he said following the installation of the scret equipment the party is on red alert to counter any violence that the NPP would create in the region.
Mr Allotey-Jacobs indicated that in order not to be overtaken by events, leaders of the party in the region have been holding series of meetings to find ways of nibbling any possible violence in the bud and said, "if it is war, it will be war and if it is peace, it will be peace."
"The Central Region NDC and other regions, therefore, hope that the NPP government will not do anything unlawful that will disturb the peace and democratic journey that the nation has just started", he added