Physically challenged urged to assert rights during DLE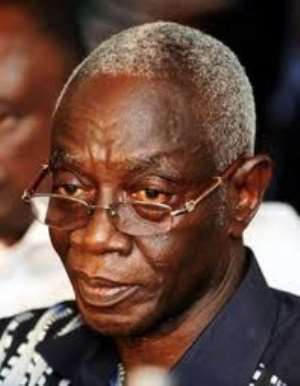 Ho, Feb 18, GNA - Dr Kwadwo Afari Gyan, Chairman of the Electoral Commission, has appealed to physically challenged persons to be assertive but courteous in demanding privileges reserved for them at polling stations during the District Level Elections (DLEs).
'You must be aware of your rights and stand up for them,' he said.
The privileges include the chance to vote without having to wait in queues and be given assistance by polling officials including the provision of special polling screens that take care of their handicaps.
The rest are locating polling stations such that they could have easy access to them and the use of tactile jackets to enable blind voters to vote in secrecy.
Dr Gyan said the blind could state their choice of candidates to their guides or polling officials and be assisted by them to thumbprint beside those choices if they wished.
He was giving an overview of the DLE at a workshop organised by the Commission and the United States Agency for International Development (USAID) to enhance the participation of marginalized groups in the impending DLE.
He appealed to blind voters to come along to the polling stations with their white canes for easy identification.
Dr Gyan said it was the right of physically challenged persons to be afforded all means possible to be able to exercise their right to contest elections and to elect those who govern.
Explaining why they and women were being referred to as 'marginalized', Dr Gyan said the term was an admission of the fact that they were pushed to the margins of Ghana's politics contrary to the laws of the country.
He said the term was therefore not meant as an insult as some physically challenged thought.
'Being marginalized means being marginalized by somebody,' Dr Gyan said.
He said the term marginalized had been used to describe the denial of the rights of various groups of people even in advanced democracies.
Dr Gyan therefore urged the physically challenged to take active part in election related forums and offer suggestions and criticisms towards improving their participation in the choice of leaders for the country.
He said it was 'morally wrong' for other candidates to campaign against physically challenged persons using their physical disabilities as reason why they should not contest elections and be voted for.
Dr Gyan said that way of campaigning was defamatory and those against whom they were directed had the right to legal redress. GNA