2 Chop GH¢506,000 At Bibiani Assembly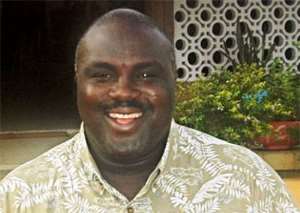 Julius Debrah – Out going Local Government Minister
Two officials of the Bibiani District Assembly in the Western Region have been arrested by the police for allegedly embezzling an amount of GH¢506,000 belonging to the assembly, within a period of two years.
The District Finance Officer (DFO), Emmanuel Owusu Ansah, and the District Coordinating Director (DCD), one Mr Bayor, allegedly defrauded the assembly between 2012 and April 2014.
The District Chief Executive, Jacob Wari, who claimed he assumed office as DCE about three months ago, reported the case to the police.
He maintained that the activities of the two suspects came to light when the Audit Service conducted an audit into the accounts of the assembly.
After the audit report, it was realised that revenue from stool lands meant for the assembly was missing.
According to the DCE, it was revealed during an investigation that the money, amounting to GH¢506,000, had been lodged with a different bank.
'We went to the bank for the statement. We could not retrieve the money because the two had used all the money,' he indicated.
Mr Jacob Wari said that he then reported the case to the police and the DFO and the DCD were arrested.
Supt Francis Enor, Bibiani District Police Commander, confirmed the arrest of the two suspects.
He explained that the two were busted because they were signatories to the assembly's accounts.
He asserted that initial investigations revealed that the suspects allegedly lodged the said money in a different bank account without the approval of the district assembly.
Supt Enor indicated that upon interrogation the two admitted the crime, and are currently in police custody assisting in further investigations.
Rot At MASLOC
Similar fraud was uncovered at the Microfinance and Small Loans Centre (MASLOC) where GH¢1,055,582 had allegedly been misappropriated.
President and founder of IMANI Ghana, Franklin Cudjoe, decried the GH¢1,055,582 fraud, saying that it is unfortunate and malicious.
According to him, MASLOC over the years had been a 'government-inspired stealing institution' therefore he was not too surprised with its recent fraudulent act.
An acting director of operations at MASLOC, Ken Kwaku Boadi Asare, is alleged to have forged 102 non-existing business associations to advance GH¢1,055,582 to two financial institutions.
The suspect, who is currently on interdiction, is alleged to have acted in connivance with some regional officers of MASLOC to perpetrate the crime similar to the alleged fraud at the National Service Secretariat.
Investigators of the Economic and Organised Crime Office (EOCO) have since concluded investigations into the matter.
Report says the docket on the case was being sent to the Attorney-General's Department for advice.
In a Facebook comment, Franklin said all the 'directors of MASLOC should be picked up immediately as this looks like a coordinated loot. After that MASLOC should be disbanded.'
From Emmanuel Opoku, Takoradi