Carver fined Gh¢6,800.00 for stealing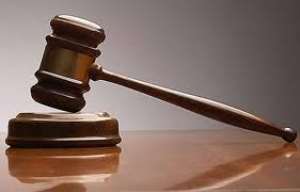 Akim Swedru (E/R), Feb. 10, GNA - The Akim Swedru Circuit Court has sentenced Kwadwo Senteng, a wood carver, to a fine of 6,800.00 Ghana cedis for stealing.
In default, Senteng, who broke into someone's room to steal items valued at 6,200.00 Ghana cedis, would go to jail for months in hard labour.   
He pleaded guilty to causing damage, unlawful entry and stealing when he appeared before the trial judge, Mr Emmanuel Brew.
Prosecuting, Inspector Fabian Sallah told the court that the complainant, Mr Benjamin Prah, a senior staff of the Akwatia Saint Dominic Hospital, visited his house at Anamase and detected that his doors were damaged, and items worth 6,200.00 Ghana cedis had been stolen.
He said the damaged items were four security locks, two wooden doors, a padlock, two cylinder locks, two burglar proof and kitchen doors, while the stolen items included three mattresses, three beds and 29 roofing sheets.
The prosecutor said Mr Prah made a report to the Akim Manso Police who arrested Senteng, adding that he led the police to retrieve the items.
GNA EN-GB X-NONE X-NONE