"CARE"less Health (3): SHS Graduate in Charge of Health, Serves as 'Doctor;' Administers Injections and Prescribes Drugs for Sick Children.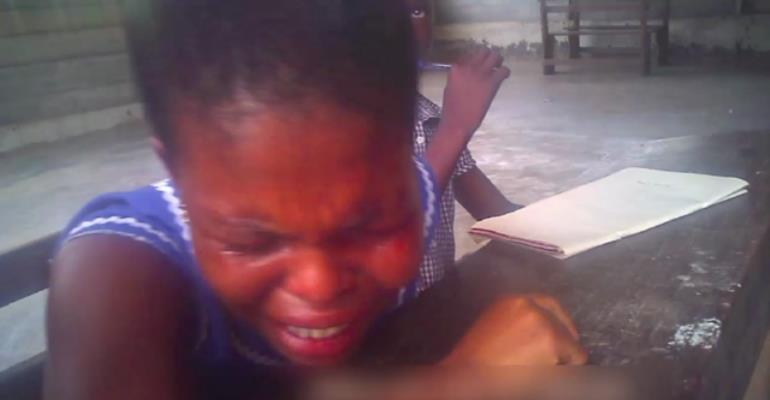 His office is the home's dispensary where he is found seated on a daily basis doing what his office mandates him to do – diagnose ailments, administer drugs and give injections. In the absence of any patient you will find him reading medical literature.
He prefers to be referred to as doctor and not by any other title and so officially he is known and called "Dr. Nsiebi." If you care to know, he obtained his qualification as a doctor after completing Senior High School (SHS).
In his own words, "I have been trained here by our dad who is a pharmacist by profession. Now he is a visually challenged and I am taking over everything related to health issues."
On the occasion when the New Crusading GUIDE visited the home for an interview, he however gave a different role description, he said; "… my name is Isaac Nsiebi and I am the dispensary boy in the home. I have completed my senior high school (education) and I am looking forward to continue this year."
Diagnosing Ailments, Dispensing Drugs, Administering Injections
According to the Performance Audit Report of the Auditor General on the Regulation of Residential Homes for Children (orphanages) by the Department of Social Welfare (DSW), every orphanage is expected to have a visiting doctor, a full time nurse and first aid facilities.
For the six months that this reporter stayed in the home, he never saw a doctor come by; he didn't see a nurse; but why bother with another doctor and a nurse when there is the ever present "Dr. Nsiebi?"
"Dr. Nsiebi" prescribed and administered medication to these orphans and as they did not know any better, they gulped it down with all the confidence you and I would if a doctor gives us medication.

This reporter was present when a young boy reported to "Dr. Nsiebi's" office, after his "routine checks" on the boy, Dr. Nsiebi decided that he had to administer an injection to the boy. Of course he did not say what was wrong with the boy, what injection he was giving him and what the injection was supposed to do.
The story of a young girl who was bleeding after being hit by a stone during play immediately comes to mind.
In that incidence, Dr. Nsiebi showed his 'medically experience' and savviness when he told the girl who had been injured on the head during play and had blood oozing down her face, to go wash the blood off before coming to him for treatment.
When the medical problem at hand is too much for "Dr. Nsiebi" told us that "when we run into difficulties, you just have to go to the bigger hospital where you can get the support."
But going to the bigger hospital is not that easy as this reporter witnessed. There is a hustle as to who and where a sick kid has to be taken when the situation becomes dire.
The reporter witnessed the case of Kofi, a toddler who was seriously ill and had to be taken to the hospital. According to the rules of the home, each child has a "mother," and it was the responsibility of that mother to send her sick child to the hospital, but that is only on paper.
In the particular case, it was the responsibility of Kofi's mother to take him to the hospital but she also complained of sickness and that one America should send him for medical treatment.
Dr. Nsiebi stood by and went back and forth with Kofi's mother as to who should take him to the hospital but could not arrive at a final decision. All this while Kofi was lying down sick.
This reporter had an interview with Dr. Nsiebi about (1) diagnosing ailments, (2) about how well the process of grooming the next doctor was going.
A transcript is produced below:
Nsiebi: So this is the inflammatory response; inflammation is the body's reaction or general response to any kind of injury, such as physical wounds, falling/pouring objects including infectious organisms.
So anything toxic means poisonous and can be inflammatory. It has to do with waist pains, worm infection etc. So it (the book) states that the general response to the body effect, (that is) when someone is injured or physical wounds, it happens when a person gets a sore and that part of the body gets swollen. All these things are referred to as inflammatory.
That is why an affected person takes anti inflammatory (drugs). It is akin to a virus and an anti-virus. 'Anti' here refers to something that would work against a particular thing. You got it?" he asked.
Dr. Nsiebi was an SHS graduate who had dreams of furthering his education and so it was obvious that there was the need for someone else to take over in his absence. Here is Dr. Nsiebi with his successor Bernard.
According to Dr. Nsiebi, Bernard is his most serious student as he had tried unsuccessfully to train several of the young boys in medicine.
Nseibi: You do not know whether a person is asthmatic or not, but the very moment you use the stethoscope on the person's chest and hear a particular sound hooo, hoooo, hooo that's the sign of an asthmatic patient.
For such people it's good to start with Pensolin or an asthmatic drug. You understand? Special doctor, Dr. Bernard. It's dangerous so I have to tell him what to do, he has to know some basic drugs. Even for the injections, one thing about them is that the side effects are so high.
You have some of the drugs that you do combine and others that you do not combine. Some of them if you mistakenly combine, it will be like a stone in the syringe. If you do not know and consider it to be normal, you will kill the person.
We have others that you give as a single dose, we have others that you give as a divided dose. It takes time but he is ready to learn. He started a long time ago. And then he went on a vacation.
Clearly there are enough laws to protect and guard children in RHCs against abuse, but as a result of lack of enforcement, health is being toyed with at the Countryside Children's Welfare Home.
Illegal Administering of Drugs: A General Social Menace
Prof. Alex Duodo, an associate professor at the University of Ghana Medical School; in an interview with the New Crusading GUIDE on issues of health delivery within the orphanage as he saw it, stated thus; "the story is very troubling, having an (unlicensed) unregistered young boy or girl for that matter the gender is not important as the age, working in an orphanage, prescribing medicines (and) giving healthcare is not acceptable.
But it speaks to what is happening within the general society. There are people seeing orphanages as places where people who go need help, yes is true they need help; but it is either you give world-class care or you don't setup an orphanage at all.
The laws of this nation are clear, healthcare occurs in a place which is licensed, by people who are licensed. It happens in schools, we are even talking about orphanages, school nurses; how many of them are properly licensed?
If you are going to be overlord or have (oversight) of people, every single life is important and every single human being has the same right. You cannot let someone from somewhere, it could be your cousin, your nephew, a high school dropout; to become a doctor, prescribing, dispensing, giving healthcare, it is illegal, it is wrong it is unacceptable," he concluded.
Prof Dodoo, who is also the Director for the World Health Organization (WHO) Collaboration Center for Advocacy and Training on Pharmacovigilance, laments that children of the home may be free from harmful elements of the weather and other bad influences, but they were clearly being subjected to physical and mental abuse.
As such, he advocated that the home had to be shut down and systems put in place to guarantee the safety of kids there.
5 YEARS ON: THE OSU ORPHANAGE REPORT
It has been five years since we released the Orphans Home of Hell investigation. As is usual, a ministerial committee was set up to investigate and give recommendations on the way forward.
We are reliably informed that there has been a return to the status quo in the case of Osu Children's home. Donations are being diverted; orphans are being abused physically and verbally etc.

'CARE'less has been uncovered after the ministerial committee had concluded and submitted their report and recommendation in November 2010. The report made several recommendations all aimed at ensuring that the anomalies that were uncovered in the Osu video are not repeated in other orphanage homes in the country.
Had those recommendations being followed through by particularly the Department of Social Welfare (DSW) we should not as a nation have witnessed this excruciatingly painful situation at the Countryside Welfare Home.
The report was full of promise and pregnant with protection for orphans nationwide but as has always been the case, lack of enforcement coupled with a shirked responsibility by relevant agencies meant that the "CARE"less Countryside story must be told.
In the last part of this investigative series, we look at the issues of sex and abortion by girls of the home and how easy it is to have sex with some of these orphaned children.
We also take a look at the Department of Social Welfare vis-à-vis the Performance Audit report by the Auditor General on the Regulation of Orphanages. The documentary film "CARE"less will be airing on all TV stations very soon.
Stay Tuned.