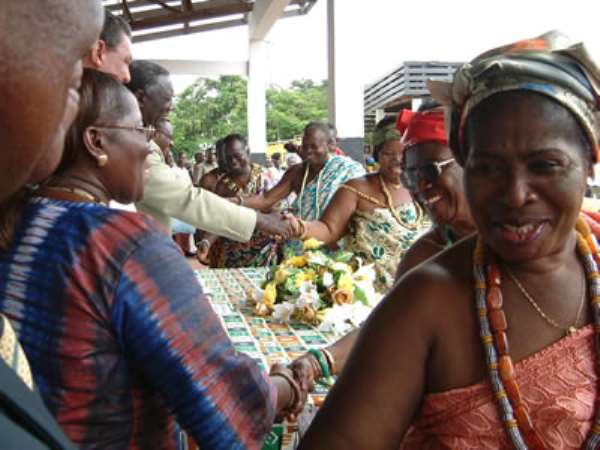 Accra, July 22, GNA- President John Agyekum Kufuor on Thursday presented 40 million cedis cash and customary drinks to the Ga Traditional Council towards the celebrations of this year's Homowo Festival.
Twenty million cedis out of the amount is for the chiefs, 10 million cedis for the Queenmothers and 10 million cedis to the fetish priests. The drinks were made up of a carton Schnapps, six cartons of beer and six crates of soft drinks.
President Kufuor who made the presentation during a visit to the Council at the Ga Mantse's Palace in Accra, said it was a reciprocal one by the chiefs and elders recently to the Castle, Osu.
He said Accra had been the nerve centre of Ghana's development with the entry of people from all parts of the country who come daily to transact business and other activities.
President Kufuor said the Government appreciates the central role Accra is playing in Ghana's socio-economic development and was therefore, determined to make Accra the pace setter for development in the country. "We should all join hands to support the government in good deeds to make Accra the true nerve centre for Ghana's development".
"I wish you a happy Homowo and a successful year ahead as we pray for peace, harmony and prosperity for Accra and Ghana", he added. Nii Adote Obuor II, Sempe Mantse and Acting President of the Council, who received the items, thanked the President and the government for the gesture.
He said a special clean-up exercise had been planned throughout the Ga Traditional Area as part of the celebrations to ensure that the festival was celebrated in a congenial atmosphere. He commended the Government for its efforts to ensure peace and stability in the country.
Mr Reginald Niibi Ayibonte, Member of Parliament for Odododiodoo, on behalf of Members of Parliament in the Greater Accra Region presented 12 million cedis to the Council towards the celebrations. 22 July 04