The Dilemma On Teenage Pregnancy: In Daffiama, Bussie And Nadowli Townships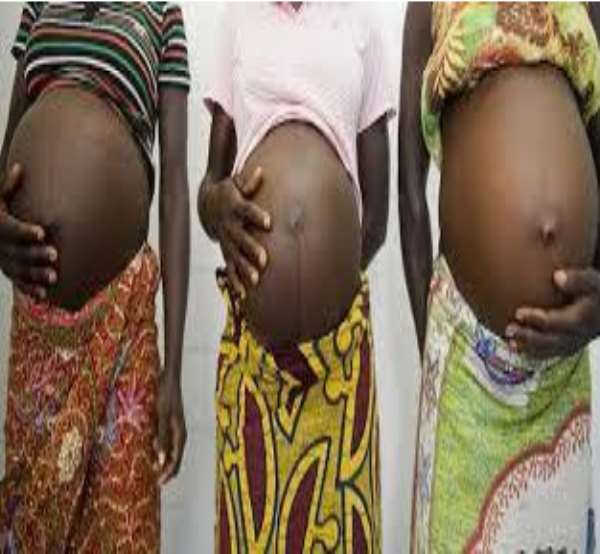 Abstract
The incidence of adolescent pregnancy is highest in sub-Saharan Africa (143 per 1,000 girls aged between 15-19 years). In Europe, it is well over 20 per 1,000. In the Netherlands, the percentage of teenage pregnancies ending in abortion is high (abortion ratio 61%), but the number of abortions among teenagers is low (abortion rate 8.6 per 1,000) (UNFPA, 2014). Differences in the number of teenage pregnancies between industrialized countries are mainly caused by the availability of effective contraception for adolescents and not by differences in sexual behaviour. It has been observed that, lose parental control over wards, the activities of galamasey sites and poverty are the main extreme causes of teenage pregnancies. A review of scholarly articles has been fished together to produce this write-up.
Methodology
This article is purely secondary and a little primary data from observation around our resident community put together to produce it. A review of literature around the world and taking cognizance of the cross-cutting issues informed the ideas teeth-out to obtain this write-up.
Key words: Teenage Pregnancy, adolescent, effects
Background
Countries with large cohorts of adolescents and youth can reap a demographic dividend for national development, resilience and sustainability (Albert et al, 2003). But the size of that dividend depends critically on investment in human capital and the strengthening of human capabilities, as well as on policies that support the empowerment of young people (UNFPA, 2014, Sumankuuro, 2013).
Teenage pregnancy is where a girl between the ages of 12-19, gets pregnant.
The menace of teenage pregnancy is slowly killing the destiny of our youth and the future of this great nation. It is evident that, teenage pregnancy is on the rise in Daffiama-Bussie-Issa District (says the Member of Parliament (MP) for the Daffiama/Bussie /Issa Constituency, Hon. Mathias Puozaa on 14th April, 2014, retrieved from www.modernghana.com on 29/11/2014), Ghana, Africa and around the world. Throughout history, children are known to be gifts from God, but for some, a child is either considered a curse or a misfortune, especially when it is not planned for. The arrival of a child must always be prepared for. In the situation, 2 where a teenager gives birth to a child, the idea of preparation is flouted, blanked out or forgotten and neglected. When it comes to a child given birth to a child, teenage pregnancy is always the central idea.
The issue of teenage pregnancy has become very common in the Daffiama-Bussie-Issa District, especially among both Junior and Primary School students. It has therefore gained media attention in recent times. Its occurrence has become very alarming making one doubtful of the efficacy of our most cherished moral values inculcated in the youth
by our traditional or religious bodies.
It looks like the innumerable sex education campaigns given through Ghana Education Service (GES) syllabus and non-governmental organizations (NGOs) such Youth Alive Ghana, WIDO (in Kaleo) to mention but few, to the youth just only falls on deaf ears. Initially, the impression was that, teenage pregnancy often happens among uneducated teenagers who lack parental guidance, but of late this notion seems abating, since most of today's culprits are those in school (Sumankuuro, 2013). Can we then conclude that, the school have become breeding ground for this menace or not?
Causes of teenage Pregnancy
Poverty and entertainment are the main causes of teenage pregnancy in the District, I believe. Most parents are unable to provide the basic needs of their children. Most parents share a single room with their teenage girl. These young girls are uncomfortable sharing single room with their father and other siblings. So they decide to look elsewhere for shelter. Peers who offer to help these girls with shelter either influence them in the process to have unprotected sex resulting in teenage pregnancy and the effects therein.
At times, the young girls are being wooed in the pursuit of shelter. For the young boys who feel lashed by poverty, develop a determination to get rich overnight. At their age, the only solution to their plight is illegal mining; otherwise christened as "Galamsey." Teenage boys who succeed in this become breed winners to poor young girls. These "Galamsey boys" sleep with every young girl they come across because of their so called overnight riches. Most of the young girls do not engage in "Galamsey" because they lack the morale and strength. The product of all these actions is teenage pregnancy.
It is not uncommon to see every drink spots in the region as a whole hosting these girls almost every day. The effect of this is that; it becomes the home for wandering teenagers seeking shelter. Entertainment is good but unregulated entertainment is a curse to any society.
The purpose of this article is to suggest a solution, holistic approach to fighting teenage pregnancy in Daffiama, Nadowli and Bussie in particular. Everyone must decide to get 3 involved. No one should give birth to a child without adequate preparations. Our schools and Non-Governmental Organisations should engage students in sex education at least once a term (Sumankuuro, 2013). Herbalists should stop giving illegal drugs to teenagers for abortion or else arrest should be made on them.
Again, the media must also spearhead public education in this regard. In terms of the districts' development, the media station that is phenomenal is Radio Progress, kudos to the leadership. We also recognize the influence of the religious bodies in solving this canker.
The churches and mosques should continually preach the good virtues of Jesus Christ and Prophet Mohammed to our teenagers for character reformation. Notwithstanding that, the churches and Mosques should also draw some programs to attract their youth as alternative to worldly entertainment especially during Christmas and Ed-il Adhar and other special occasions. Unambiguous attention from the police should be given to this.
Without the discipline from the teenager, any solution is meaningless. It is the discipline born out of decision that says no to present pleasures, lust and sexual satisfaction that will make our teenager great for our country at large. It is a fact that during the teenage period of any human, curiosity comes in mind, especially the desire to experience sex. A Man of God ones said "Sex is a good thing and God intend it for married couples who are ready to bear its consequences (GNA, 2012)." Even though it is a natural phenomenon for any youth to harbour these feelings but discipline can master and conquer those feelings.
Effects of Teenage Pregnancy
Teenage pregnancy robs a nation of its potential future leaders. It makes the teenager in question a school drop-out leading to a frustrated life. In some situations, the teenage mother decides (Reuters, 2008) to continue her education; however, her level of concentration in class drastically reduces, making her fall academically. An instance is the case of two year two girls who got pregnant from Daffiama Senior High School and left to deliver; but for the fear and shame of their colleagues failed to return to school to continue with education (NDA, 2013).
Now, what behoves of them and their children? Some may also perform poorly on return. This poor academic performance on her part could result to constant repetitions in class, and when she becomes fed up about her constant repetition, she quits (Adu, 2013). Consequentially, the teenage mother becomes jobless, poor and ends up in a very low standard of living. Providing adequately for her child becomes extremely difficult and in this case lack of parental control is the result (UNFPA, 2014).
The child of the teenage mother also begins to seek help from elsewhere due to her poor background, especially from men, and might end up getting pregnant at a tender age thereby becoming a living testimony of the adage "like mother like child" (Lloyd, 2008). There are other health risks that come along with teenage pregnancy such as still birth, undeveloped baby and abortion which might lead to loss of child or mother since her bones are
premature. Sometimes, most of these teenagers also die from illegal abortions (www.wikipedia.com). This could be attributed to lack of financial resources and what it takes to go to proper hospitals for the adequate medical procedures. At certain times, the teenage mother gets so angry with herself for making such a horrendous mistake and she tends to vent her anger on the child (WHO, 2013).
This might result in lack of communication, tenderness, care and love between the mother and the child, and the possibility of the child going wayward in this case is high. In most cases, the last option is suicide due to depression and rejection from parents and friends.
Conclusion:
Discipline rules the mind, emotions and thoughts. It brings self-denial and causes one to wait patiently till the right time (www.ghanaweb.com). There might be a lot of forums and campaigns all over the country to educate the youth on teenage pregnancy, but all will be of no use, if the youth do not take the advice given to them seriously.
References:
Adu (2013): Causes of Teenage Pregnancy in Ghana, retrieved from graphiconline.com on Tuesday, 09 December 2014 at 6:30am
UNFPA (2014): Adolescents, Youth and the Transformation of the Future, State of the World's Population, Geneva.
Sumankuuro (2013): Achieving MDGs in Ghana; Some Traditional Birth Attendants (TBAs) to fade out published on 5th September, 2013 on
http://www.modernghana.com/news/487557/1/achieving-mdgs-in-ghana-some-traditionalbirth-att.html and The Chronicle and www.allafrica.com on 13th September, 2013.
Sumankuuro (2013): What government of Ghana Could do to allay the fears on maternal health published on 9th September, 2013 by http://www.modernghana.com/news/488198/1/what-thegovernment-of-ghana-could-do-to-allay-the.html and also Available at SSRN: http://ssrn.com/abstract=2446498 or http://dx.doi.org/10.2139/ssrn.2446498 5
Sumankuuro (2014): A Push On Health Care Delivery: The Role Of Microfinance Institutions In Ghana published on 31st December, 2013,
http://www.modernghana.com/news/511133/1/a-push-on-health-care-delivery-the-role-ofmicrofi.html
Ghana News Agency (2012): Ghana is 41st on world maternal mortality rate index; (retrieved on Tuesday, 26/02/2013 at 4:31 P.M NDA (2013): District Medium Term Development Plan (DMTDP) 2010-2013, Nadowli cited on 05/012/2014 WHO (2013): Effective Teaching: A Guide for Educating Health Providers. JHPIEGO:
Baltimore, MD.
Albert, B., Brown, S., & Flanigan, C. (Eds.) (2003): 14 and Younger: The Sexual Behavior of
Young Adolescents. Washington, DC: National Campaign to Prevent Teen Pregnancy.
Lloyd Blankfein (2008), quoted in Marc Gunther, "Goldman Sees Gold in Helping Women,"
Fortune Magazine
Reuters (2008), "Former President Clinton Announces World Bank, Nike Foundation,
Denmark and Liberia CGI Commitment to Unleash Economic Opportunity for Adolescent Girls in Liberia".
www.wikipedia.com
www.ghanaweb.com
www.modernghana.com