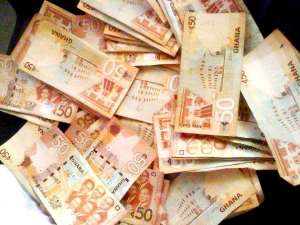 Two top officials of the State Insurance Company (SIC) Limited have been arrested for allegedly embezzling funds belonging to the company.
They are Musa Abdulai, Deputy Managing Director in-charge of Finance and Administration, and Kenneth Acolatse, Head of Finance and Accounts.
The two were nabbed last Thursday evening by the Nima police for allegedly conniving and stealing about GH¢700,000 and $1,126,000.
They have since been transferred to the police headquarters for interrogation.
Confirming the arrest to  DAILY GUIDE , Superintendent Felix Mawusi,
Director in-charge of Commercial Crime Unit (CCU) at the Criminal Investigation Department (CID) headquarters, said the case was taken over from the Nima police yesterday.
The managing director of SIC, he noted, reported to the Nima police that audit reports had revealed that some officials of the company had stolen GH¢700,000 and $1,126,000 from the company's accounts between July 2011 and March 2014.
Through investigations the two, being the prime suspects, were picked by the police to help investigate the matter.
The two accused officials were refused bail and had to spend the night in cells pending investigations.
The suspects are still in custody at the headquarters assisting in investigations.
SIC is one of the oldest insurance companies in Ghana.
BY Linda Tenyah
([email protected])