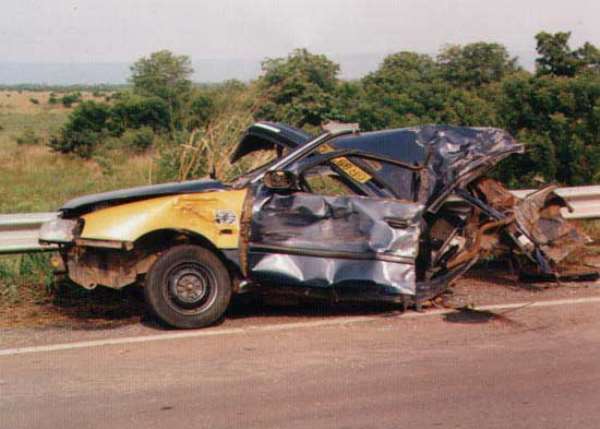 Accra, July 13, GNA - Ghana could lose about 12,000 lives in the next six years and another 30,000 persons injured if adequate, sustainable and cost effective counter measures are not put in place to curb road accidents, Mr Noble Appiah, Acting Executive Director of the Ghana Road Safety Campaign (GRSC), said on Tuesday.
He said from 1993 to 2003, over 120,000 road accidents were recorded with more than 15,000 persons killed, 50,000 seriously injured and over 70,000 slightly injured.
Mr Appiah said this at the inauguration of the newly elected executive members of the Ghana National Association of Driving Schools, (Ghana Drive).
In the first quarter of this year, more than 400 persons have been killed in road accidents, with 40 per cent of them in the Ashanti Region alone.
"The tragedy is those road accidents data indicate that over 90 per cent of accidents are avoidable," he said.
Mr Appiah said the GRSC with support from stakeholders had developed a five-year Road Safety Action Plan to break the upward trend in road traffic accidents.
A key component of the strategy is the development and the implementation of programmes to upgrade the skills, knowledge and competence of drivers.
Mr Appiah said driver competence was a function of education, training, information and experience while road user behaviour was essentially concerned with attitude adding that a good driver education and training programme were important.
"The key factors responsible for accidents in the country were user behaviour, unsafe vehicles and unsafe roads. Research has shown that driver training can impact positively on road safety," he said.
Mr Joe Osei-Wusu, Chief Executive, Driver Vehicle Licensing Authority (DVLA), who inducted the executives of Ghana Drive into office, expressed regret that Ghana had been ruled out of UK's list of countries in her bid to recruit truck drivers due to careless driving. He called for redirection and focus in the driver training schools.
He urged Ghana Drive to go beyond the training of Licence B holders (license for taxi, private and rented cars) and explore the bigger market by training drivers for the other categories of licences. He also asked them to train people to drive and not to interfere in the work of the DVLA.
He noted that because they factored licensing fee in the tuition fee they attempted to compromise standards to acquire licences for their clients.
Ghana Drive aims at providing manpower development with a harmonized high standard of professional competence in defensive driving, including general road safety education acceptable internationally.
Formed in 1979, it had had impact on policy formulation. 13 July 04