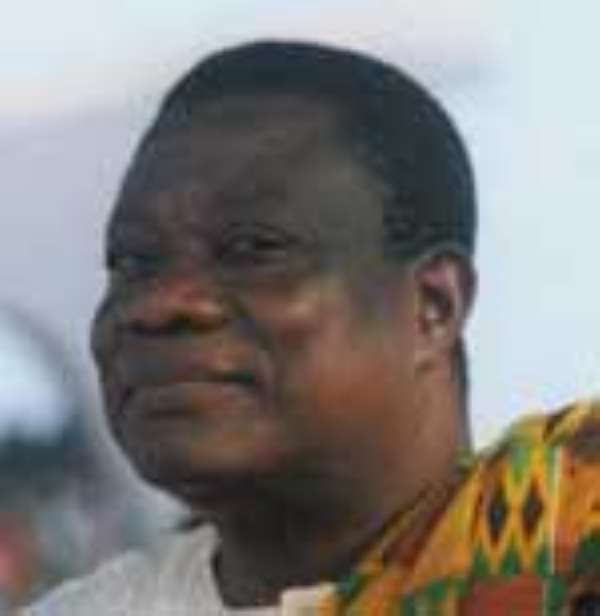 ....Investigate Alleged Corrupt Cases — Mills The flagbearer of the National Democratic Congress (NDC), Professor John Evans Atta Mills, has challenged President J. A. Kufuor to deal with the numerous cases of corruption involving members of his government.
According to him, anytime he threw the challenge, the President refused to respond. "The only response he gave was in Cape Coast when he said corruption started from the days of Adam.
I thought he would say corruption started with Rawlings. If he knew that why did the NPP deceive Ghanaians that the NDC was corrupt during the 2000 electioneering period?', the Prof asked.
Prof Mills made the call when he addressed separate rallies in communities in the Bawku East and West districts as part of his five-day tour of the Upper East Region.
Communities he visited included Pusiga, Garu, Kpatia, Bawku and Zebilla.
Prof Mills who was accompanied by Mr Martin Amidu, his running mate in the 2000 elections, Mr Daniel Ohene Agyekum, a former Ashanti Regional Minister, Mr Donald Adabre, former Upper East Regional Minister, Mr Albert Abongo, MP for Bongo and Alhaji Fudu Patience, the Regional Chairman of the NDC, received a rousing welcome in the various communities.
He said after more than three and a half years in office, the NPP government had not been able to make any serious and meaningful impact on the lives of Ghanaians".
"You see nothing but hardship and poverty wherever you go. Never again should we allow such deception." he said.
He appealed to the electorate to vote the NDC back to power for the party to continue with its good policies that will salvage the economy.
"We may not be wearing big coats and ties, speak big English, but what we know is that political power must be used to promote the welfare of the people" he said.
Prof Mills pledged his commitment to ensuring peaceful and violent-free elections and appealed to the party supporters not to allow themselves to be provoked during the election period.
"If we walk in peace,, transparency and truth, I think the good Lord will help us' he advised.
Prof Mills had earlier paid a courtesy call on the Paramount Chief of the Bolgatanga Traditional Area, Naba Martin Abilba, Asigri Abugrago Azoka II, the Imam of Bawku, Mallam Dantani, the regent of Pusiga, Asuori Abugri and the chiefs of Garu and Zebilla.