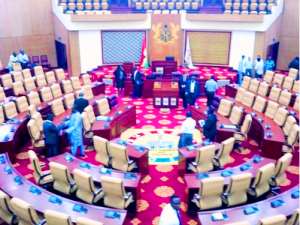 Most politicians and public officials in Ghana are hypocritical when it comes to narcotic burst, this Nayele's case is not the first therefore she must take heart and cooperate with the authorities Nayele is not a beast like many of us want the public to perceive her, but unfortunately she is just a business tycoon trying to have ends meet just like most of you who are heartless, bleeding Ghana to the bone through various public offices. For example, the unnecessary borrowing of government is detrimental to future generation and resources of Ghana, which in my view warrant by partisan commission not Nayele business activities.
The idea of Nayele been close to the first family or better still a girl friend to the President is an infectious disease like cholera residue or ebola body fluid is pathetic and sad. But looking at Nayele pictures, I think she is not bad, rather beautiful, gorgeous, tantalizing and majestic, a princess who befit and more than qualify to be any president's escort without this unfortunate business incident.
Therefore, drop the so called by partisan commission to look into how she eluded the security officers and treat this case as criminal case and let the appropriate authorities deal with it.
On the other hand the by partisan commission can focus on investigating the assets of all public officials, i.e. directors, engineers, auditors and accountants etc. or better still put pressure on the appropriate authority to deal with the Auditor General Report.
If drug trafficking is bad, evil and criminal so is directors and engineers in our public sectors who are amassing wealth through other illegal means according to the Auditor General Report.
Another smooth and lucrative means now available is to create loot and share which allegedly is becoming the order of the day among various stakeholders in government and public sector. Set a by partisan commission for that.
The International Development Association (IDA) projects or initiatives with (PPP) Public Private Partnership will soon become another milking pot therefore worth by partisan commission watchdog.
Where is that news paper report alleging President Mahama the then Vice president of Ghana implicated stashing $170 million in a Swiss bank together with his wife. As the late President Mills appointed Hon William Aboah, Mr. George Amoah and Brig. Gen. Allotey (Rtd) to investigate the then vice Prez Mahama in a deal which he led a team to acquire five military aircrafts from Brazil, Mills met his sudden death. This issues is no more in the media, does it mean they are not true?
Though the Swiss bank used the silent clause in refusing to confirm the information on the $170 million, IMF investigators were able to use other available means like electronic tracking system to locate the said accounts with Mrs. Lordina Mahama and John Dramani Mahama. These accounts ironically were established for them by a company called "Creditio Privat Commercial" and why they chose this method in itself tells Ghanaians that President Mahama is a political double dribbler pretending he is doing something to retrieve judgment debts and fighting corruption. By partisan commission is needed to debunk this allegation through international court of justice.
The President of Ghana junior brother is in court suing an NPP leader for spreading false rumors about his wealth. Parliament should form a by partisan commission and go after the Associate press reporter for the above allegation against our dear President to the innocence of the first family's wealth.
In my humble opinion, Nayele is not worst of, when it comes to our corrupt politicians and public officials; if the media could conduct a thorough investigation into her social affiliations we would see all the red carpets and high tables she walk or sat on among high in society. The only difference now is that Nayele's unfortunate incident became international news liable to create panic and peternites who are disassociating themselves from Jesus. Though she has fallen, the lady shall rise again, more sophisticated, intelligent, and wise becoming an ambassador on war against drugs. You are in my prayers Princess Nayele.
Ghanaians and security agencies must rise and collect all monies reported stolen by public officials and their cohort by the Auditor General.
Yao Fiagbeto
0507660310
Atito