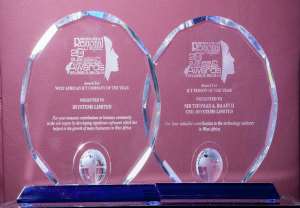 BSystems Limited a software and database management company of Ghanaian origin, has been adjudged the West African ICT company of the year at the 2014 Business and Leadership Awards held in Brussles, Belguim.
This award is in recognition of the company's immense contributions to the business community in the sub-region by developing significant software such as Smart HR and Payroll and IHRMS used by the Internal Revenue Service (IRS), National Health Insurance Agency (NHIA), National Lottery Authority (NLA) and others for efficiency in human capital management and enabling payroll processing in easier and more reliable formats.
The company has also developed the Collateral Registry software for the Bank of Ghana (BoG) and the Central Bank of Liberia as well as the Identity Verification Systems (GVIVE) software for financial institutions.
The award comes at a time when the company is nearing the celebration of fifteen years of providing cutting edge IT based business solutions that have been specially designed to meet the present and future needs of businesses within the sub Saharan marketplace. BSystems Limited combines high expertise in IT systems to deliver value added services to customers who range from banking to the insurance, telecommunications and education sectors.
BSystems Limited has over the period since its establishment provided unique and top notch skills training for individuals as well as IT solutions for companies. The organization, which is currently one of Ghana and West Africa's leading Systems Consulting and Software Development Companies, is hoping to enter more African IT markets in the near future.
The awards ceremony which was organized by the West African Regional Magazine also awarded the CEO of BSystems Limited, Mr. Thomas A. Baafi as the ICT person of the year at the same awards.
This comes on the heels of some other recognition the company has gained with one of the most recent ones being the Software Company of the Year award which they won at the Ghana Telecom Awards two years.