Members Of Parliament Express Disappointment In "Chinese" Products Used For Reconfigured Chamber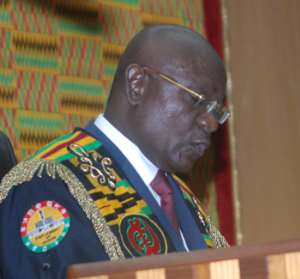 Members of the country's Legislature have expressed disappointment and worry about the "Chinese" products used for the reconfigured Chamber of the House. According to the MP's a lot of discomfort was emanating from the luxurious accessories – newly installed computerized console on their tables, new seats, larger television and voting screens, carpets and new chandeliers – used for the refurbishment.
Reconfiguration of the Parliamentary Chamber became necessary following its inability to fully accommodate the 275 legislators, thereby forcing some of them to perch with their colleagues during parliamentary proceedings in the old chamber.
Returning from a long recess today, which was called to enable the expansion works progress steadily and smoothly, the MP's to their chagrin observed that over 90% of the accessories used for the reconfigured chamber was imported in sharp contrast to President Mahama's call for the patronage of made in Ghana goods.
It will be recalled that since the beginning of the year, President Mahama has been championing a campaign for citizens to patronize made in Ghana products in a bid to reduce the country's import dependency and help local industries create jobs.
He has since been imploring citizens to change their unbridled taste for foreign goods and switch to made-in-Ghana goods.
On the back of this campaign, some MPs are shocked that government failed to use locally manufactured chairs to refurbish the nation's Parliament.
Speaking to Live News' Parliamentary Correspondent, Ekow Annan; some legislators questioned why imported furniture from China was used in refurbishing the chamber of Parliament when local industries could do same.
One of such MP's representing the people of Atiwa East; Abena Osei Asare wondered why the contract was given to the Chinese.
"They could have given this contract to a local person and the person would have designed things way better that what we are seeing here……The president tells us he is wearing a Made in Ghana shoe and then when it comes to something as sensitive as the Parliament of Ghana you decide to give the contract to a Chinese person to showcase Chinese furniture instead of showcasing Ghanaian furniture," she said.
Explaining further to Ekow Annan, Mrs. Osei Asare said "Something as basic as the furniture shouldn't have gone to a Chinese contractor, secondly if it had been given to a Ghanaian they know the stature of Ghanaians and everything. Have you seen the chair, very bulky and for some of us who are not that tall we get lost in the seat…….even spaces to move around these furniture is virtually difficult, very difficult. They could have done better.… you can't even turn around comfortably, if you have to move to somewhere else the person sitting before you has to get up, push his or her chair inside before you can move and get to where you are going to and I don't think it's the best."
On his part the Member of Parliament for Kpandai, Matthew Nyindam also expressed disappointment on the over reliance of foreign goods.
"As a Ghanaian, I should be disappointed and representing the people I should be much disappointed........Almost 90 percent of what we have in Parliament, as today which we are all praising alright is from China. So as a Ghanaian we ask ourselves, we don't walk the talk. That's the problem we have in Ghana here. This we are seeing here is not so different that Ghanaians cannot do, no. If you walk outside and you go to places like Agorwu Furniture and other places, you will get to know that what is in the chamber, Ghanaians can equally do the same," he fumed.
The Member of Parliament for Ablekuma Central, Theophilus Tetteh Chaie however disagreed with the assertions by his two colleagues.
"Well for me I don't see any problems with the facilities in stored. Are we saying that the ICT facility is been produced in Ghana? No. Chairs and tables can be produced here but you see we had a limited time to work and this project was ceded to a foreign contractor. Most of the work that was done was done by Ghanaians. This shouldn't be a serious issue; the most important thing is that are we having the right facilities there? Are the facilities going to assist us to do what we are expected to do? Fine if the facilities are going to assist then we should move along with it. For me the most important thing is, are the facilities that are been supplied of higher quality?" he quizzed.
He however was quick to add that "the only challenge I have seen is the fact that the chairs are too high and as a result when you are seated, you are not able to see the next person in front of you, I think that is the only challenge. I think if the back of the chairs were a little bit lower, so that at least our heads can be seen from any direction."
Touching on complaints from a section of the MP's about their inability to use the newly installed computerized console on their tables, Mr Chaie said, "It's not everybody that is ICT compliant but these are things that can be taught within a twinkle of an eye, it is not something that is complicated. Just this morning, I accessed my votes and proceedings on the installed ICT facility which is very good so I don't need to be carrying papers all the time. The ICT facility is very simple to use, in fact you need not sweat accessing the information on it, the moment you touch it opens. Whatever you want to see is there so this is not something that will take members that long to access".
He however admonished his colleague MP's to "to maintain the facility as that is the most important thing. Resources have gone into it and it is up to us the users to ensure that we use it to the benefit of the nation and then those who are to maintain the facilities also do whatever they need to do to maintain the facility," he told Ekow Annan.
Meanwhile
The Speaker of Parliament cancelled a last minute engagement with the media to explain the rationale behind the foreign products used for the Chamber. Sources close to Rt Hon Edward Doe Adjaho noted that the meeting would also have afforded the media, first hand information on the total cost spent on the rehabilitation works which hasn't been officially communicated yet.
Ekow Annan/Live FM
[email protected]/twitter: ekowskare