Labour Confirms Strike On Wednesday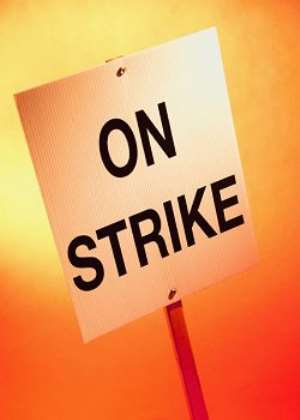 Labour unions will from Wednesday, October 22  embark on an indefinite strike .
According to them, the action has become necessary because of government's failure to pay their tier two pension contributions
The unions that declared the strike include  the Health Services Workers' Union, Ghana Registered Nurses' Association, Ghana Medical Association, Ghana Physician Assistants' Association, Government and Hospitals Pharmacists' Association and the Ghana Association of Certified Registered Anesthetists.
The rest are the Coalition of Concerned Teachers, Ghana National Association of Teachers, Teachers and Education Workers Union, National Association of Graduate Teachers, Judicial Services Staff Association of Ghana and the Civil and Local Government Staff Association of Ghana.
They have directed all their members to stay away from their offices from Wednesday 'until further directives are issued.'
Speaking at a press conference on behalf of the labour unions in Accra, the acting General Secretary of the Health Services Workers' Union, Reynolds Tenkorang said the unions had on several occasions complained to the President on the release of their pension funds, but all fell on deaf ears.
He added that they also petitioned the Parliamentary Select Committee on Employment, Social Welfare and State Enterprises but that also yielded no results.
He said; 'we wish the press to also note that during the period, there have been countless meetings and interactions with the body mandated to oversee pensions in Ghana, that is the National Pensions Regulatory Authority.'
According to Reynolds Tenkorang, the first beneficiaries of the tier two pension scheme are supposed to receive their lump sum next year adding that 'they are in the dark as to where to claim the second tier benefits.'
The Minister of Employment and Labour Relations, Haruna Iddrisu has told Citi News that he was hoping for a quick resolution of the matter after a number of meetings with labour over the matter.
He said government was working hard to resolve their concerns.
Source: Citifmonline.com