NPP Delegates' Congress: Follow results here!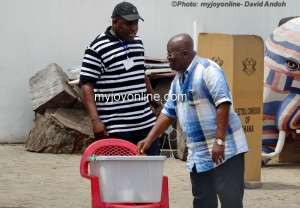 The counting of ballots in the New Patriotic Party's Delegates' Congress to elect a flagbearer is currently underway. Please follow the results as they come in here. 
About 144,000 delegates in 275 constituencies cast their ballots to select one of three aspirants to lead the party to the 2016 Presidential election.
Two-time flagbearer, Nana Addo Dankwa Akufo-Addo is facing stiff opposition from former Trade Minister Alan Kyerematen and MP, Francis Addai Nimoh.
Mr Akufo-Addo is widely tipped to win the election but he must do so by a wide margin if he is to gain control of the fractured party.
Some results from the constituencies are:
Chereponi:
Nana Akufo-Addo: 329
Alan Kyerematen: 0
Addai-Nimoh: 1
Spoilt ballot: 16
Yagaba/Kobori Constituency:
Nana Akufo-Addo: 223
Alan Kyerematen: 3
Addai-Nimoh: 0
Spoilt ballot: 17
Saboba Constituency:
Nana Akufo-Addo: 299
Alan Kyerematen: 2
Addai-Nimoh: 0
Zabzugu:
Nana Akufo-Addo: 283
Alan Kyerematen: 4
Addai-Nimoh: 1
Spoilt ballot: 15