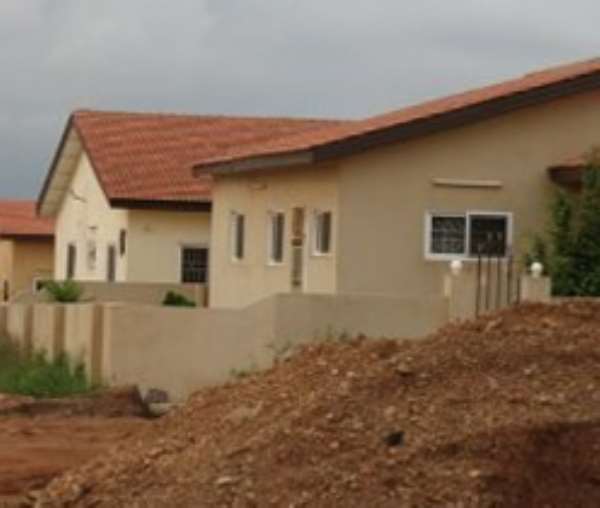 Truly, in Ghana it is everybody's dream to live in luxurious edifice and other houses for betterment in life in cities but looking at the traditional housing in Ghana in our rural areas you can still see many different kinds of traditional housing in Ghana. The variety of houses is related to the climate, to the materials available and to the culture of the people in different areas of the country.
All traditional buildings in Ghana, however, share two characteristics; they are constructed of locally available materials and they have limited durability, so that they often need maintenance and rebuilding.
Unless the local soil is completely unsuitable, traditional walls are usually made of clay mixed with chopped straw. This is used either by itself or is put on a woven framework of poles and leaves. In either case, a final smooth coating of clay is added. In the north it is common to see sun-dried bricks, which are easily produced in the drier climate there. The buildings in the north are often in conical form. The outside walls are sometimes made a deep purple colour with the crushed seed pods of the locust bean.
Throughout Ghana you can find thatched roofs, made from grass or palm leaves. These provide good protection from both rain and heat but they need to be replaced every three to five solid years. In many northern houses in Ghana, clay roofs are to be found. They often have three layers; a surface of clay, which is laid on mats, which in turn are laid on beams of wood. The beams of the houses are made from the Borassus palm, a wood which has the great advantage of being resistant to the attacks of insects, including termites. The roofs of many houses in the north are horizontal.
However, some buildings have dome-shaped roofs, in which case larger areas can be spanned. In the past, most buildings were expected to be replaced over a period of time. They were not regarded as fixed and so they could be taken down in one place and built up in another. Nineteenth century writers described a large number of ruins and abandoned towns that were to be seen in the bush. Perhaps dust-up had forced the people to move from these towns. When the buildings were not looked after, they quickly fell into disrepair and new settlements were built somewhere else.
In the past, not only the material but also the labour and expertise required for most building was found locally. This was because there was no long distance transport. In any case, the local people had no need of bringing building materials or workers from elsewhere, because they were self-sufficient. Only some of the major buildings, like palaces or mosques, were design by professionals, people with wider experience, whose names are recorded.
New kids of building material were introduced in the twentieth century. Fired bricks were used as a building material in government and sometimes missionary buildings, including churches. Such bricks were not so common in private construction where, recently, concrete has been widely used.
In the same way, clay tiles have not been used as much in private houses as corrugated iron, alumminium and asbestos sheet and asphalt roofing. I SHALL RETURN BACK AGAIN
Edward Frimpong
tel;0243651928
Accra,Ghana
[email protected]