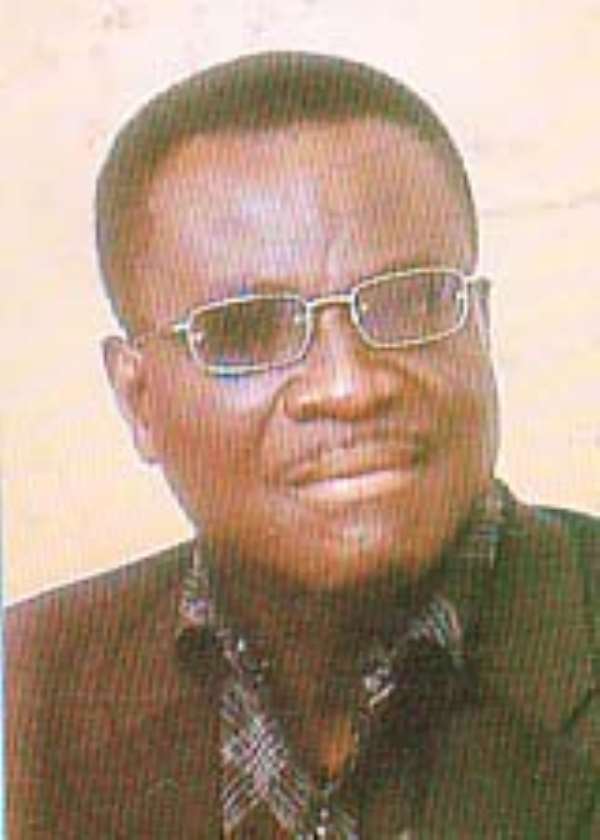 Running away, when nobody 'taano nu duooo' No show for Corporal Adabuga & Superintendent Oduro AFTER MUCH bluffing, huffing and puffing, 67-year-old convicted fraudster and suspected murderer, Chris Asher (Jnr) did the unthinkable barely twelve hours to his date of fate with Captain (Rtd) Kojo Tsikata, the man who had labelled him an international con artist. Days after the one-time Rawlings buddy indicated in various interviews with the Daily Guide that he was ready and eagerly looking forward to his re-appearance at the National Reconciliation Commission (NRC), he developed cold feet last Tuesday, hit reverse gear and quickly chickened out of his much expected "face to face, eyeball to eyeball" meeting with the former national security capo.
Worse still, his excuses for failing to turn up at the NRC yesterday sounded extremely suspicious, and reeked of an attempt to avoid being exposed over a number of false evidence he gave during his last appearance, as well as a number of embarrassing issues, including details of the allegations of murder that have come up on him since then.
Asher, according to the Executive Secretary of the NRC, Dr Ken Attafuah, had written to indicate that he could not turn up at the proceedings because when he appeared before the NRC, the Tsikatas –cousins Kojo and Tsatsu- had prior knowledge of it and refused to take advantage of his presence to interview him.
But though Asher had known all along that the Tsikatas had given up on their rights to interview him and that he would not appear, he kept on insisting in interviews credited to him in the Guide within the last few days that he would honour the Wednesday, June 16, date with the Tsikatas.
Interestingly, Dr Attafuah explained yesterday that Asher's claim that the Tsikatas refused to seize the opportunity of his presence in Ghana to cross-examine him during his appearance at the Commission, was not entirely accurate.
"It is not exactly correct" he told the Accra-based Choice FM early yesterday evening, explaining that Chris Asher had long testified before the Commission located and serve the Tsikatas with letters to respond to the issues.
"At that time, Chris Asher had long testified" in August, he noted, indicating that the duo had not shown a want of effort or a declination on their part to cross-examine Asher.
Asher, who had bluffed that he would hit town to expose the Tsikatas any day by coming to defend his evidence at the NRC, sent his last minute disappearance fax to the NRC late Tuesday afternoon to also say that unless he got a free ticket into town, he would not come.
The NRC in a press release issued that same night also said Corporal Matthew Adabuga, Superintendent William Oduro and Asher had all pulled out of the scheduled cross-examination for yesterday.
The Tsikatas were billed to cross-examine all three who had in their evidence before the NRC accused Kojo and Tsatsu Tsikata of complicity in the murder of the three High Court judges and an Army officer on June 30, 1982.
But whilst Norway-based Corporal (Rtd) Mathew Adabuga, indicated to the NRC, according to the release signed by Mr. Mohammed Affum, Acting Director of Public Affairs, that he was currently writing his exams and would avail himself to cross-examination after June 23, Asher simply sought excuses and sought to rationalise "his running away."
The statement said with respect to Supt. William Oduro that he also indicated that he would not be able to appear before the NRC as scheduled because he is reported to have exhausted his leave period from his employers.
The NRC consequently fixed July 5 as a new date for Kojo Tsikata to respond to allegations against him by Oduro and Adabuga.
"Similarly, the Commission has written to Mr Tsatsu Tsikata asking him to confirm in writing if he would like to testify in response to the allegations made against him by Mr Chris Asher, notwithstanding the absence of Mr. Asher", the statement said.
Asher has come under extensive public opprobrium following recent revelations by this newspaper that he conned the NRC into believing that he had handwritten documents of L/Cpl Samuel Amedeka and Johnny Dzandu, which were given to him in his days in prison with them for use by the NRC.
He was consequently given immunity to testify only to fail in producing any document from Amedeka. A document he produced on Dzandu, sources say, was also not a document he could have procured during his days in prison as they related to documents that came up during the SIB proceedings into the June 30 murders.
There is also a writ by the Republic against the Attorney seeking to compel the AG to seek the extradition and subsequent trial of the 67 year old fugitive and former Chief of Osoroase in the Eastern Region for the murder of one Ebenezer Ofori Atta.
Asher is accused of having cold bloodedly murdered Ofori Atta and having hidden the murder weapon at the place of a woman believed to be his sister. He was serving a 10-year sentence for insurance fraud and was on trial for the alleged murder when he broke jail and fled the country.
He has however denied the murder allegations and insists that there was no evidence or trial of him because the murder charges were politically motivated. Those claims were last week countered by a retired circuit court judge, Mr. Emmanuel Ashalley Ashley, who has sworn an affidavit that suggests that Asher lied on the issue.
Authorities of the US State of Maryland have at one point in time also issued an indictment against the suspected murderer during his stay in the US.
On the same day, Chris Asher chickened out of his appearance, Kojo Tsikata made a third appearance at the National Reconciliation Commission (NRC) and denied any link with the execution of the Generals in 1979.
Tsikata said he was in Luanda, Angola, at the time of the execution of the Generals in June 1979 during his cross-examination of Squadron Leader George Tagoe, Ex-Corporal Alhassan Adama Akati and Mr Alex Adjei, all witnesses, who had mentioned him in their evidences.
Squadron Leader Tagoe had said that Capt Sammy Michelle, then Chairman of the Preliminary Investigation Team (PIT), had given him a list of 13 people, which included the name of Capt Tsikata as being a brain behind the execution of the Generals in 1979.
The PIT operated under and advised the erstwhile military regime of the Armed Forces Revolutionary Council (AFRC), which ruled Ghana after a military take-over on June 4 1979.
Former Attorney General and Minister for Justice, Dr Obed Yao Asamoah, led the legal team that included Mr. Kyeretwie Opoku and one Mr Cudjoe, to cross-examine the witnesses.
In reaction to a statement from Squadron Leader Tagoe during the cross-examination that Capt. Michelle knew Capt Tsikata well, because he (Michelle) and Capt Tsikata had both been in the Recce Regiment, Capt Tsikata said he (Tsikata) left the Army in 1965, and also the Regiment before Capt Michelle was enlisted.
Squadron Leader Tagoe had during the cross-examination maintained that the list was correct, because it came from Capt Michelle, whom he described as a kingpin of the PIT.