NDC constituency chairman in verbal assault with women's organiser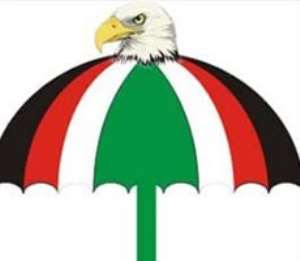 The Kwahu South National Democratic Congress (NDC) Con­stituency Chairman, Mr. Atta Obeng, alias Sabore, clashed with constituency's Women's Organizer, Madam Sakina Norshie during a meet­ing last Tuesday.
The fracas was said to have occurred when the Women's Organiser and oth­ers were prevented from attending the meeting which was being held at Mount Sinai Hotel at Bepong, Kwahu, in the Eastern Region.
DAILY GUIDE gath­ered that the said meeting was organized by the aspiring Eastern Regional chairman of the NDC, Oheneba Addo, and was intended to meet only the 33 constituency chairmen in the region, with the aim of appealing to delegates to vote for him in the upcoming regional elections of the party.
Mr. Atta Obeng, noticed the Women's Organ­izer entering the venue of the meeting, allegedly stood up from his seat and rushed to prevent the woman from being part of the confab by giving her some punches on her face. The cause of the NDC top man's action, the paper was told, was a misunder­standing between him and Sakina Norshie concerning the school feeding pro­gramme.
The meeting became rowdy, as some of the other executives tried to separate the two but to no avail, until the Kwahu South Police Commander, DSP Emmanuel Amoah, was called upon to deploy some of his men to inter­vene.
The Aspiring Regional NDC chairman, who expressed disappointment about the mayhem, tempted to reconcile the  Chairman and the Women's  Organizer, but it yielded no fruits. The meeting was therefore put on hold.