Bravo, Prof. Kwaku Asare!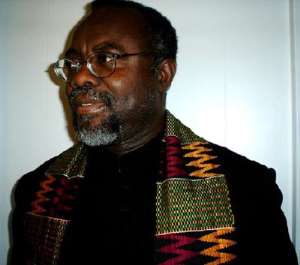 It ought not to have gotten this abjectly far, but I must confess to having read the news article captioned "Lawyer Sues AG, CRIC Over Review of 1992 Constitution" (MyJoyOnline.com 7/16/14) with the same sigh of relief that attends an opportunely constructive and well-informed attempt at reining in a schoolyard bully perennially run amuck. For that is what the key executive operatives of the Rawlings-minted so-called National Democratic Congress (NDC) are - brazen and clinically unconscienable schoolyard bullies.
Anyway, we are presently concerned with the patently illegal and criminal attempt by the pathologically autocratic NDC operatives, beginning with the late President John Evans Atta-Mills, to flagrantly tweak and amend Ghana's 1992 Republican Constitution in crass and gross violation of the latter's sacred and inviolable terms of reference, as so eloquently and flawlessly elucidated by the U.S.-domiciled Prof. Stephen Kwaku Asare.
Needless to say, this flagitious attempt to unconscionably eviscerate the country's democratic culture strikingly reflects then-Prime Minister Kwame Nkrumah's self-serving declaration of Ghana as a "Republic" in 1960. And so it is all in keeping with their ideological orientation for Messrs. Atta-Mills and Mahama to have unilaterally and unconstitutionally institutionalized the birthday of the country's first postcolonial leader as a national holiday.
Unlike Prof. Asare, who has reportedly filed a lawsuit at the Wood-presided Supreme Court of Ghana, wisely and laudably seeking to make civilized constitutional democratic culture work for Mother-Ghana, I am not a lawyer. But I feel significantly compelled to herein recall the fact that at the time that the then-President Atta-Mills single-mindedly decided to criminally railroad the role and function of Ghana's Parliament, by establishing his so-called Constitution Review Committee/Commission, I wrote and published at least an article, or perhaps even two, underscoring the glaring fact that President Atta-Mills had absolutely no mandate to so flagrantly usurp the clearly enshrined constitutional powers of Parliament.
Finally, a Ghanaian citizen with balls and chutzpah who is also a remarkable legal light has decided to call the bluff of Atta-Mills arch-lieutenant, and now substantive President of the August Republic of Ghana, Mr. John Dramani Mahama. What is strange for me, though, is that to-date no Ghanaian parliamentarian has had the guts and good conscience to take the same high-minded road to democratic sanity and justice that Prof. Asare, a man I greatly admire and respect and have "known" through NPP-USA Media Committee's teleconferencing, has been forced to take.
In sum, it well appears (and quite disturbingly so) that short of selfishly and Narcissistically indulging their parochial individual right to be nominated as Presidential Candidate of the New Patriotic Party (NPP), and ultimately President of Ghana, absolutely none of the leading "lawyerly" candidates of the country's most formidable opposition political party has recognized the need to make constitutional democracy work for all Ghanaians.
In the prophetic words of Prof. Ayi Kwei Armah's classic novel, as far as those of us avid students of Fourth-Republican Ghanaian democracy are concerned, The Beautiful Ones Are Not Yet Born. This, of course, is not to imply, in anyway, that they will never be born. It is only to emphatically observe that those who would actually lead Ghanaians to the proverbial Promised Land are definitely no yet on state side. They have to be periodically called up from the Diaspora to stop the bullies.
A very strong case for genuine and serious revisitation of the Dual-Citizenship Debate. Isn't it?