Ofosu Kwakye's Asinine Delusion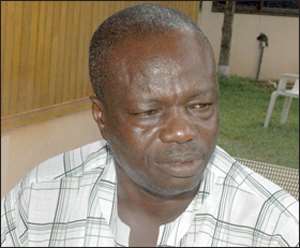 If you want to judge a leader, look no farther from those who advise him or those who make inputs into his decision.
Many failed leaders achieved their failures on the shoulders of bootlickers and empty minds who just cherish being in the corridors of power or indeed being recognised as powerful people in the scheme of things rather than leaving behind tangible and verifiable achievements for the sake of the people and those yet to be born.
In Africa, more often than not, leaders simply want to be identified as having occupied certain prominent positions with power, pump and pageantry rather than effectively using the collective resources to improve the lives of the majority of the people. The level of mediocrity and short-sightedness of African leaders is such that any trivial acceptable performance is magnified into what has become very common in recent politics in Ghana as 'unprecedented'.
Before I continue, let me share an embarrassing incident which occurred in Vancouver, Canada in 2006. It was the 3 rd  World Urban Development conference.
The opening of the conference attracted the Prime Minister of Canada and other top personalities from the World Habitat. When the Prime Minister of Canada was invited unto the podium to deliver his address, he humbly walked there, picked his prepared speech from inside the pocket of his jacket and read it. So were the many dignitaries who climbed the podium.
When this African leader was invited onto the podium, a well built personal aid in military uniform had to precede the leader onto the podium, put whatever written speech on the high table, move a few steps back for his President to climb to the podium, salute his boss before leaving the podium for the President to begin his address. Unbridled use of power.
Ghana, our beloved country, is in a critical situation very much unprecedented in our recent history. The economy is tumbling down; various reasons can be assigned to this bad state of affairs. As a patriot of this country, my plea to fellow citizens would be to gird our loins and do whatever possible to get ourselves out of this mess in the long term interest of our children and those yet to be born. I believe all of us are doing that because of the various forms of sacrifices we are engaged in.
We have had to contend with increased taxes to help improve the internal revenues of the state, we are paying more for electricity which is unstable in terms of delivery, fuel prices change at will. Let us remind ourselves that some of us Ghanaians pre-finance the service delivery of electricity, yet the erratic delivery has become part of our daily lives. We are quiet because we hope things will be better.
A basic but essential commodity like water has become a luxury to majority of the people, yet we 'are managing', prices of goods are on the hyper run down the hill into an abyss. Government's social responsibilities towards the people are not delivered.
Institutions and bodies which deliver health services to the public under the National Health Insurance Scheme have withdrawn their services to the public because the state has refused to pay  the service providers for so long that the providers cannot also meet their financial obligations to suppliers.
Education at the basic levels are collapsing for lack of basic inputs into the teaching and learning process.
The middle level professions in this country are at crossroads under the Mahama administration, Ghanaians are making sacrifices through alternative means accessing those services being denied for various reasons.
However, there is a limit to human endurance and once a while even the dumb would express his indignation through other means of communication to his oppressor that he (the dumb) does not relish being oppressed.
It is this overdose of sacrifices that has given vent to an otherwise nonchalant section of Ghanaians, publicly making an appeal to the President to wake up and do something about the situation. What is the response?
President Mahama's Ministry of Information and Media Relations has produced a crop of ministers whose public utterances on national issues, instead of soothing the feelings of the people rather infuriate them.
The press conference of the Deputy Minister of the ministry, Mr. Felix Ofosu Kwakye last Tuesday and the issues raised on behalf of the government on the petition of the 'OCCUPY THE FLAGHSTAFF HOUSE GROUP,  was nothing but delusory self-denial of the realities in which we live.
Ofosu Kwakye and the government in patting themselves at the back in respect of what they have done for the Health Insurance Policy was proud to note that over 27 million people visit health facilities because of the expansion of the programme.
By Jove, if we have a population of 25 million, and in a year 27 million visit the health facilities, then it is a nation of sick people. We are all sick, that perhaps account for the sick nation we find ourselves in.
Ofosu Kwakye was priding himself in increased enrolment in schools as a result of increased infrastructure provisions. No doubt, some educational infrastructure have been built by this government, but listen to him in the Daily Graphic of July9, 2014, '…..basic education enrolment had increased by 829, 625 in the last four years.'
He explained that the sudden increase was largely due to government intervention aimed at guaranteeing greater access to education and named some as the 2,064 basic school projects under construction… How can school buildings under construction increase pupil enrolment, where do they sit to study?
In the health sector, the projects to accommodate more patients are still ongoing, so how have they improved the conditions of inpatients in the hospitals? The Ridge Hospital and the proposed Military Hospital in Kumasi.
You see, government has rolled out 'a programme of providing modern hospital equipment to enhance healthcare delivery nationwide…' They have not been provided, so how have the intentions translated into improvement in health delivery for the people?
Look at his response to electricity; the same old story which have not solved the problem of dum so dum so. So what was he responding to apart from taking us for buffoons? Listen to his treatise on water. Kpong Water expansion, when completed will do so so and so, Kpong Water Intake when completed will do a b c d.
These are not completed and so the problem of water scarcity confronts the people and that is what the people are talking about. It is one thing having an aspiration and another thing translating those aspirations into practical achievements.
What the people are asking for is good reliable supply of water and not the intentions of government or projects that are yet to be completed.
Yes, it is good to assure people that an ongoing project, when completed will address a need, but you do that in a very civil manner. You do not call those complaining about a problem you are yet to solve as doomsayers.  How many projects have this government not abandoned mid-way when they are not solving any problem?
Yes it is true that the government is embarking on asphalting some roads in the Sekondi-Takoradi townships. However, there are so many critical roads within the twin-city which are so terrible. So we in the twin-city cannot talk about the bad roads?
For Ofosu Kwakye to call for a new conversation is to turn this country into a kind of a repressive Communist North Korea where hungry people are compelled to claim they are overfed.
The new conversation, in the estimation of Ofosu Kwakye should be that Ghanaians should praise and lie prostrate before Mahama and the bunch of incompetent appointees and say halleluiah for the mess we are in. Tweeaaaaaa, apeeeto!
Daavi, two tots of mahogany bitters in these difficult times.
 By Kwesi Biney