Kosmos supports GNA to build capacity of journalists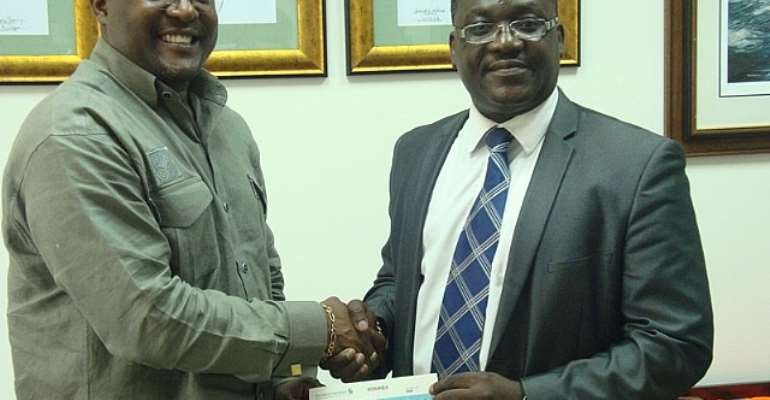 Dr. Kwame Boakye-Agyei presenting a cheque to Dr. Bernard Otabil
 Accra, July 9, 2014, GNA - Kosmos Energy Ghana (KEG) has partnered with the Ghana News Agency (GNA) to train journalists in oil and gas reporting.
 
Kosmos has agreed to sponsor a training program aimed at deepening the knowledge of journalists covering the oil and gas sector, one of the most complex industries in the world. The program will cover all aspects of the industry, including exploration, production, trading, and commodity pricing in world markets.
 
Journalists are expected to report on the industry accurately even though in many cases their knowledge is limited. There is no doubt that a report is only as good as the understanding of the person reporting.
 
Therefore, there is the need for journalists to be trained on nuances of the oil and gas industry to enhance their understanding and foster accurate reporting that provides the public with complete information.
 
Commenting on this new partnership, Dr. Bernard Otabil, Chief Executive Officer of GNA said: 'We see this collaboration as critical to the development and improvement of knowledge in energy sector reporting.
 
Journalists with the requisite knowledge and skills will be able to better inform the general public, and ultimately improve the understanding of products of oil companies and the industry generally.'
 
Mr. George Sarpong, Director, Corporate Affairs of KEG said: 'We see this opportunity as a way to improve the understanding of journalists in the energy sector, as well as ensure society at large appreciates the impact and contributions of the oil and gas industry.
 
Dr. Kwame Boakye-Agyei, Director of HSE and Security at Kosmos who presented the cheque on behalf of his organization to GNA on Tuesday, remarked that the event was the beginning of a chapter of fruitful collaboration between Kosmos Energy and the GNA. He noted that what the two institutions had in common was the pursuit of excellence.
 
As a further expansion on its mandate to engage in nation-building through dialogue and information sharing, the GNA has developed a training centre - GNA Centre for Journalism and Multimedia Studies - to improve the capacity of journalists.
 
Currently, the Agency, which has promoted credible and unbiased newsgathering, processing and disseminating for more than five decades has provided training to more than 80 practicing journalists, reporters and stringers.
 
It is the intention of the Agency to use its training division to serve the interest of staff, as well as build the capacity of others already in the industry and prospective media professionals.
 
The training division improves the analytical skills of journalists, helping them to contribute effectively to nation-building, which is one of the core tenets on which the GNA was established.
 
On June 30, GNA signed a Memorandum of Understanding (MOU) with the Accra Institute of Technology (AIT) to provide technical training for GNA staff in technology adoption and to collaborate on multimedia training for journalists to further enhance the work of the training division.
GNA